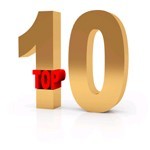 Check out these top 10 signs you might be suffering from "special ed advocate burn out" – submitted by one of our favorite Texas advocates.
10. You think of the peaceful park you like as a great place to have an IEP meeting.
9. You realize at the IEP meeting, the  psychotic special ed director, who is picking invisible flowers out of mid air, is probably having more fun in life than you are.
8. A grateful client, who thinks you walk on water, brings you a small gift. You end up having to debrief with a fellow advocate if this is based on scientific, peer reviewed research.
7. You are watching a re-run of the "Wizard of Oz." You start to categorize the types of delusions that Dorothy is having and begin to do an FBA.
6. A fellow advocate comes to you with severe relationship troubles, and you start trying to remember which cognitive behavioral technique has the most empirical validity for treating this problem.
5. You realize you actually have no friends, they have all become just one big IEP caseload.
4. A fellow advocate  asks how you are doing and you reply that you are a bit "internally preoccupied,"  receiving more than a minimal educational benefit, have preferential seating, and are not able to interact with peers today.
3. A fellow advocate asks you to have lunch  and you tell them that it is not measurable and would be "counter therapeutic to your current goals" to do that.
2. You tell a special ed director at an IEP meeting, consensus has not been reached  because the coffee was decaf.
And, the #1 reason you may be burning out….(drum roll)
1. You are packing for a trip to a large family reunion and you take your  Wrightslaw books with you "just in case!"