I wrote a "parent IEP attachment" and asked that it be included with my child's IEP. The special education coordinator refused. She said my input could not be attached to the IEP because of school policy.

Can they do this? Is this written in the law? How can I deal with this?
Of course not. Nothing in the statute or regulations prevents you from adding input to your child's IEP. Just the opposite.
As the parent member of your child's IEP team, you are an equal participant in meetings. You provide essential information about your child's strengths, weaknesses, and needs. You also share concerns about your child's special education program.
Schools must do all they can to ensure that parents participate in the IEP process. The law is very clear that parents have the right to participate in the meeting where their child's IEP is developed.
Prior Written Notice (20 U.S.C. section 1415(b)(3)) clearly states that concerns and requests made by the parents must be accepted or rejected — and that the IEP team must list the reasons for accepting or rejecting the parent's proposal.34 CFR Section 300.503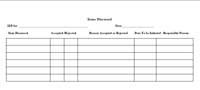 Judy Bonnell devised a simple form
with these columns: (Click form to enlarge)
Proposal
Accepted
Rejected
Reason Accepted or Rejected
Start Date
Responsible Person
If your request is accepted, add a notation on the form that states who is in charge of initiating the proposal and the start date.
As a parent member of the team, see to it that the other IEP team members state their reasons for accepting or rejecting each proposal. Then add this information to the form.
Here is a sample of Judy's Prior Written Notice Form — a great example of KISS!
Download the Prior Written Notice Form as a pdf document.
https://www.wrightslaw.com/advoc/tips/Judy_IEP_Attachment.pdf
…or, download as a word document.
https://www.wrightslaw.com/advoc/tips/Judy_IEP_Attachment.doc
The Parent Advocate, includes more excellent articles and tips for parents and advocates.