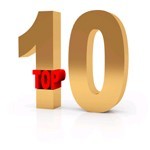 –From one of our favorite advocates who loves the 4 seasons in TX – drought, flood, blizzard, & twister, is a COPAA member and a faithful conference attendee.
We hope, in spite of "advocate overload," he made it safely home from Miami.
His latest Top 10 for 2012 –

1. You noticed that the words COPAA and Miami have the same number of vowels, so you post it to the list serve for member feedback.
2. You can't understand why your presentation to create BIPs for the conference participants was rejected….for the 3rd year in a row.
3. You have attended 4 COPAA conferences and are still not sure what the "non-party" is.
4. You believe you can barter Wrightslaw books for breakfast tacos.
5. You are just now leaving the 2011 San Antonio Conference for Miami.
6. You are just starting to understand that the main difference between school proposed IEPs and fiction is that fiction has to make sense.
7. You are overly fascinated by a Will Rogers quote and its applicability to IDEA – "If stupidity got us into this mess, then why can't it get us out?"
8. You started using too much IDEA lingo at home: "I FBA'd da BIP outta of de IEP headed sped director, and caught him by his LRE. "
9.  You have no time left in the day since you started implementing every COPAA list serve suggestion.
10.  You have downloaded the advocate app that allows you to know where the nearest bar is in relation to the current IEP meeting.
As the end of the semester rolls around, there are certain signs, one may observe, that may be indications of special ed advocate burnout. You may also be interested in his "Top 10" for the 2011 semester.