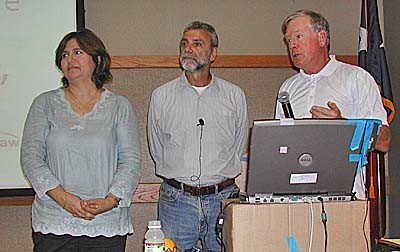 Wrightslaw Special Education Law & Advocacy Boot Camp was held in Austin, TX on August 1-2, 2008.
We thank Laura Warren and the staff of Texas Parent to Parent, the organization that sponsored the Boot Camp. Texas Parent to Parent is a nonprofit organization created by parents for families of children with disabilities, chronic illness and other special needs throughout Texas.
During the program, parent attorneys Yvonnilda Muñiz and Martin Cirkiel tell the enthusiastic audience about the Texas Organization of Parents, Advocates and Attorneys (TOPAA) while Pete Wright listens to questions.
The mission of TOPAA is to assist advocates, attorneys and parents in securing appropriate and quality educational services for children with any type of disability by working together, in collaboration with the system in place. Learn more about TOPAA.
Meetings are held in Austin, Beaumont, Coppell, Houston, and the Valley.