Present Levels are the Most Critical Part of the IEP
The Present Levels are the foundation of the IEP. The student's Present Levels must always be accurate and up-to-date.
The Present Levels in all IEPs must include:
academic achievement
functional performance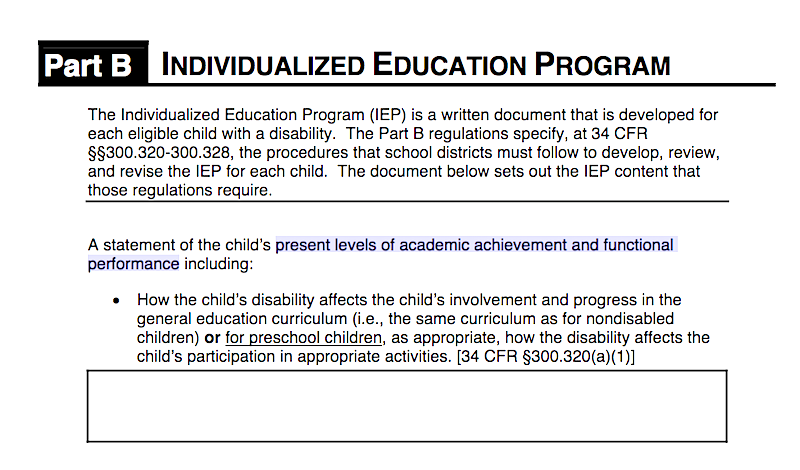 20 U.S.C. Sect. 1414 (d) (1) (A) (i). Wrightslaw: Special Education Law, 2nd Edition p. 99.
(The form your school uses may have each of these two levels in two separate sections).
When the IEP fails to include accurate and up-to-date information about the child's present levels, the IEP is defective. It has no foundation.
Although Present Levels are the most critical part of the IEP,  it is also the section that most parents and advocates prepare for the least.
The parents' input is most important during the IEP Team's assessment of the child's present level of performance. Only the parents know how the child functions at home, in the community, when doing homework, at work, and in the real world.
School attorney Joe Hatley says,
The present levels of performance are the foundation for everything else in the IEP. If your starting point is fundamentally flawed, then everything that comes after that is flawed, too.
Updating Present Levels
Each time the IEP Team meets, it must update the child's Present Levels.
The Katonah-Lewisboro (NY) School District failed to do this for one of its students. It simply copied the last year's "Present Levels" into the new IEP, despite information that the student had made progress in all academic areas from the private placement the parents had secured the previous school year.
The Second Circuit decision found that the child's IEP "was likely to cause [the student] to regress or make only trivial advancement."
The school district's fatal flaw cost it dearly. The Court ordered it to pay the student's private placement tuition. It also had to pay the parents attorneys fees and expenses of over $156,976.00. You can read the decision here:
http://www.leagle.com/xmlResult.aspx?page=2&xmldoc=In%20FCO%2020120706055.xml&docbase=CSLWAR3-2007-CURR&SizeDisp=7
Read more about Present Levels: The Foundation of the IEP
U.S. Department of Education IEP Model Form
To make sure you receive all four sessions of Summer School 2017, you'll get all sessions delivered to your inbox when you sign-up for the Special Ed Advocate Newsletter.