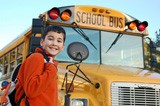 It's that time again!
For parents of children with special needs, "back to school" means the start of a new IEP advocacy year. Here are some tips to keep in mind.
1. Get your back to school supplies for parents. Find out what you'll need to help keep documents in order.

2. Update the school nurse on health or medication changes.
3. Initiate contact and educate the new teacher and school staff.
4. Make a plan for monitoring your child's progress on a regular basis.
5. Get a baseline picture of your child. Get your child a check-up, update, or follow-up check by your own therapists / specialists.
6. Catch up on new legal developments in special education law with recent developments and important older cases.
Read all the tips and case law summaries from Attorney Lisa Krizman in Starting a New IEP Advocacy: Back to School Tips
https://www.wrightslaw.com/info/advo.school.tips.krizman.htm