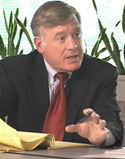 Today, I answered another HELP!!!! email from a parent  who requested a due process hearing and doesn't know what to do next.
Yesterday, I answered an email from a parent who initiated a due process hearing and lost. The parent filed an appeal in federal court and wanted advice about how to write a legal brief.
These emails led me to offer some advice about litigation.
Neither of these cases are likely to have a good outcome.
Before initiating litigation, parents need to spend time learning how the legal system works.
If you are not familiar with the law and litigation, consider taking a few courses. You need to know the rules of court, how to do legal research, etc.
In all litigation — criminal, civil, personal injury, breach of contract — there are many issues that can be presented by each side and argued vigorously. In special education litigation (as in a divorce, child custody case), the parents and school often have a laundry list of complaints and grievances that go back for years.
Most of my cases have multiple violations. As a lawyer, I must organize a mountain of confusing facts and make them clear and simple. I try to focus on my "gut" issue, the issue that will make a neutral person biased in our favor.
Develop a compelling theme of the case. Make your case clean and simple.
Decisions by judges, hearing officers and juries are rarely based upon the facts and law of a case. Instead, the decision-maker wants to rule for one party, then finds facts and law to support the decision.
To learn more about this strategy, I recommend you read How to Argue and Win Every Time by Gerry Spence. This book is not about arguing. How to Argue is about story telling and oral persuasion — the art of getting others to see things through your eyes.
Legal Fees
I also answered email from a parent who complained about the high costs of legal counsel.
Several factors contribute to this problem. Very few attorneys represent children with disabilities, primarily because they cannot make a living in this field. Like parents, attorneys have to make a living. If they can't make a living representing children with disabilities, they will leave this area of law.
Attorneys are appointed to represent indigent criminal defendants. That's about all in our system of justice.
Some ask if taxpayers should pay the attorneys who represent both sides in special education and other kinds of litigation. These questions involve public policy issues that are beyond my competence to answer.
What can parents do?
Out of every ten parents who consult with me, only one needs an attorney. The parents have a disagreement or dispute with the school about their child's special education program or placement. They don't know what to do.
Their emotions drive them to do SOMETHING.
Parents often request a special education due process hearing when they have no idea what they are getting into.
If you are in this position, read Emergency! Crisis! Help! at
https://www.wrightslaw.com/advoc/articles/Crisis.html
Most parent-school disputes can be resolved without litigation, especially if you have an attorney who can provide advice about what to do and not do.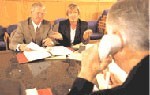 If you are thinking about requesting a due process hearing, consult with an experienced special education attorney before taking that step.  Consultation fees are usually low, especially when you consider the cost of litigation. The attorney can give you advice about how to proceed without shooting yourself in the foot.
I have another piece of advice for parents who are considering a due process hearing.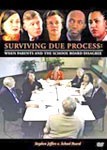 Watch the Surviving Due Process: Stephen Jeffers v. School Board DVD. This DVD is a realistic depiction of what happens in a due process hearing, and it's based on a real case.
Legal Tip: Some  Protection and Advocacy agencies (also called Disability Rights agencies) do an excellent job of representing children with disabilities in special education cases.
The South Carolina P & A was involved in the Florence County v. Shannon Carter case from the review hearing, through appeals to the District Court, the Court of Appeals for the Fourth Circuit, and U. S. Supreme Court.
Their assistance was invaluable, and I will always be grateful to them.