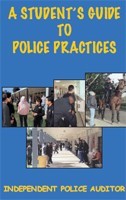 Here's a follow up to the "Blind Trust" post from last week (10/11/08).
The San Jose Office of the Independent Police Auditor (August 2008) published A Students' Guide to Police Practices.
Thanks to a heads up on October 7 from the "I Speak of Dreams" blog and a recommendation for the updated version of this student guide.
Last month, the San Jose Mercury News ran a story on how San Jose Independent Police Auditor is coming out with an updated edition of the "Students' Guide to Police Practices."

It is written in a factual, but accessible style. If your teen is driving, you should get a copy and go over it with your teen. You should go over the list of common crimes (like jaywalking and curfew violations). Young teens, even kids with "good values", can have moment of giving into temptation and shoplift. That's in there, too. Print it out and read it with your kids.
We've added a download link to the Publications section on the Wrightslaw Juvenile Justice page.
Spanish and Vietnamese versions are available from San Jose's Office of the Independent Police Auditor.
This guide is not specific to San Jose. Some information and resources are specific to CA, but the guide contains information about your child's basic legal rights, common crimes, and how to avoid becoming the victim of a crime.