Does the school system need parental consent to restrain a student with autism?

He has never had to be restrained before. He does not communicate well, but he is not a danger at all. They restrain him for silly reasons.
A Dangerous Intervention
The frustrating reality for children who cannot communicate well is that they are constantly misunderstood.
Restraint is a dangerous intervention that can lead to injury, trauma, or death in children.  You are wise to be concerned and to learn what your rights and your child's rights are.
The special education law, IDEA 2004, requires the use of functional assessments of behavior and positive behavior support plans to address behavior challenges.
Open your law book, Wrightslaw: Special Education Law, 2nd Edition and start with these statutes and regulations:  1414(d)(3)(B)   1415(k)  34 CFR §300.324(a)(2)(i)  34 CFR §300.530(f)
Send a "No Restraint" Request
Write a letter to the Director of Special Education in your school or district. Note your concerns and that –
you have not authorized and will not consent to any activity that involves physically or mechanically restraining my child while at school or going to and from school
You will find a sample letter requesting "no restraint" here.
Get Your State Regulations
You must research your state and local policies and guidelines regarding restraint and seclusion. Search these documents for information about when restraint is allowed and the requirements for parent consent.
Call your state Department of Education and ask for information and the state policy on parent consent.
You'll find your state DOE, contact information, and state regulations on the Yellow Pages for Kids with Disabilities.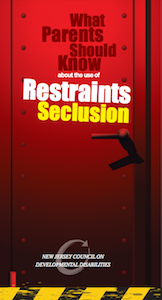 The NJ Council on Developmental Disabilities answers questions about What Parents Should Know about the Use of Restraints and Seclusion.
This booklet includes information (page 8) about informed parent consent and advised that "A school district is required to continue providing a free and appropriate public education to your child even if you refuse to consent to the use of restraints."
A sample letter for "no authorization" and "no consent" is on page 10.
Find out if there is a similar publication in your state.
US Department of Education Secretary has encouraged the Council of Chief State School Officers (CCSSO)
to develop or review and, if appropriate, revise their State policies and guidelines to ensure that every student in every school under their jurisdiction is safe and protected from being unnecessarily or inappropriately restrained or secluded.
He also urged them to publicize these policies and guidelines so that administrators,  teachers, and parents understand and consent to the limited circumstances under which these techniques may be used, and ensure that parents are notified when these interventions do occur.
For more information, reports, and resources please go to Abuse, Restraint and Seclusion in School and Behavior Problems and Discipline.
Another resource about restraint and seclusion is How Safe is the Schoolhouse (July  2019).
This report provides an overview of state laws and a more detailed description of individual state law and policy providing protections against restraint and seclusion.