IEP season is here! Do you have the tools in hand to advocate successfully?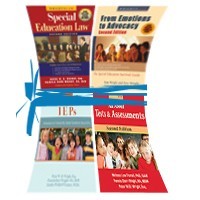 Buy the Bundle for $54.46
Wrightslaw: Special Education Law, 2nd Ed
Wrightslaw: From Emotions to Advocacy, 2nd Ed
Wrightslaw: All About IEPs
Wrightslaw: All About Tests & Assessments, 2nd Ed
That's a 30% discount and free shipping!!
PLUS – you'll receive Wrightslaw Special Education Legal Developments and Cases 2016 download for Free!
*****************************
For all other Wrightslaw products in the Wrightslaw Store, including advocacy supplies, get 25% OFF and free shipping for orders over $35.00.
Use Coupon Code 20180308 to receive your 25% discount.
Shop Now! Sale Ends March 22, 2018
For bulk orders, please call 1-877-529-4332