At the printer now!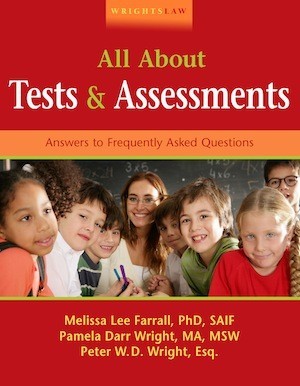 Wrightslaw: All About Tests and Assessments by Melissa Lee Farrall, Ph.D., SAIF, Pamela Darr Wright, MA MSW, and Peter W. D. Wright, Esq.
Take advantage of this special pre-publication offer: 25% OFF
Pre-pub price $11.22
Regular Price $14.95
This special offer is good from Tuesday, May 6 through Tuesday, May 20, 2014.
Pre-publication orders will be shipped during the second week of June 2014. If you order additional products, they will be shipped right away!
Wrightslaw: All About Tests and Assessments
answers more than 200 of our readers' frequently asked questions about psychological, academic, and neuropsychological tests and assessments
answers questions about speech-language, physical and occupational therapy, sensory, motor, and behavior assessments
includes charts of tests that assess specific problems and charts of the skills that your child needs to master
Download a free chapter about Reading Assessments
You will receive 25% OFF all Wrightslaw products in the Wrightslaw Store during this Special Pre-pub Offer!