"The Virginia Beach … school district serves 10,000 children with disabilities, boasting of 'the best transition programs in the country' for military kids and enjoying hundreds of thousands of dollars in grants to educate its military-connected students."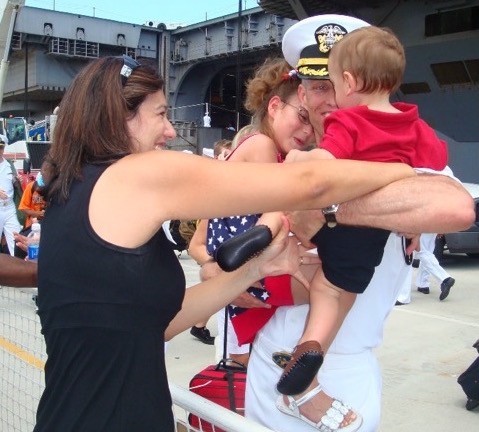 So Navy Captain Cass Norman, assigned XO of the USS Harry S. Truman, and his wife Michelle were relieved to be moving back to Virginia Beach thinking it would be a "good fit" for Marisa, their severely disabled daughter.
"But the leadership had changed at Marisa's school since they'd last been there, and with Cass away training, Michelle struggled alone against school officials to create an education plan that the Normans believed would give Marisa the tools she needed to learn."
"They believed the school minimized Marisa's significant disabilities and declared her fine when she was flailing — assertions a hearing officer later substantiated."
"When he was home, Cass would call in or ditch his uniform to attend meetings as often as he could, not wanting to use his office inappropriately. But they soon concluded that they were in a battle — with their daughter's future hanging in the balance."
"The situation surprised them. They believed that public educators would want to work with them, but instead it seemed they were digging in their heels."
"It was stressful — more stressful than me being in combat, going to nuclear propulsion school or being away from the family, Cass said."
It wasn't lost on them that they were the lucky ones. If the executive officer of an aircraft carrier can fall through the cracks — anyone could.
The Exceptional Family Member Program (EFMP)
"The Exceptional Family Member Program — the main program for special needs families — offers tools for military families caring for a disabled relative to help navigate new locales and the medical and educational services available, and to better understand special-education law. Each branch runs its EFMP differently and offers varied levels of support."
"The Marine Corps, for example, has two special-education lawyers for its force.
But most parents who must fight the school system are often on their own, something families say needs to change."
The 'Norm' for Military Families: Moving, Navigating New Schools, Complexities of Special Ed Law
"The strain of having a special needs child is hard on families, but it's particularly tough when families move a lot and must navigate a new school and the complexities of special education law in a new state every few years — the norm for military families."
"Add to that the difficulties of one spouse being away frequently for their job — and often trying not to make waves because it could detract from his or her career — and military families can get pulled to breaking point."
Under IDEA 2004, "a new school in a new state can re-evaluate the student, leaving the parents to renegotiate their child's education. For military families with children with special needs, that challenge gets repeated every few years."
"'That's our lives, moving from school district to school district, and you never know,' said Jeremy Hilton, a former Navy officer who has moved five times with his family for his wife's Air Force career despite their daughter Kate's disabilities."
The Rest of the Story
Learn more about Marisa, meet the Normans, and find out how other military families meet the challenges and search for solutions.
Falling through the cracks: Military families say their special-needs children are especially vulnerable
By Dianna Cahn | STARS AND STRIPES Published: April 13, 2017
https://www.stripes.com/news/falling-through-the-cracks-military-families-say-their-special-needs-children-are-especially-vulnerable-1.463368
May 2018 Case Update
Follow the latest update in the Norman case, MN v. School Board City of VA Beach.  Read the Hearing Officers Decision and the question of how the district will use Impact Aid Funding for military families, and find out what's next for the Normans.
MN v. School Board City of VA Beach 2018