On Sunday, millions of mothers spent the day "making memories" with cards and gifts, works of art homemade by little hands. Do you find it hard to throw these treasures away?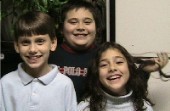 Here's how to preserve them without keeping boxes full of paper in the attic. Jackie D.Igafo-Te'o shares how she cherishes the good times by preserving positive memories of her children.
Jackie is the mother of three children. She has one son with autism. In her series "Learning to Live with Autism," Jackie writes of lessons learned, provides advice for newly diagnosed families, and shares research options for education and resources.
1. Cherish the good times. Preserve positive memories.
How can I preserve some of my children's memories here at home? If you are like me, you find it hard to throw anything away. When you do find the nerve to throw away their "works of art" you hide them in the bottom of the trash can so they won't see what you've done. My kids are growing fast and I can't imagine losing those memories.
A simple way that I've found to preserve these memories is to scan them into my computer, reduce them in size and print 4 to a page, like photographs. Then cut them out and put them in a photo album or scrapbook for safekeeping.
You can now have hard-cover, bound picture books printed for around $20 through places like Wal-Mart and Shutterfly.com. Not only do these make great gifts, it's a great way of saving some of their most treasured art without keeping boxes full of paper in the attic. There will always be those things that you can't seem to part with – like the first letter your child ever writes to you or his drawing of the family. No digital image could ever replace some of these memories.
We all like to look back from time to time and take a walk down memory lane. It's good for the soul. Take some time out to reflect on the positive impact that Autism has had on your life.
Remember that it's not all negative and gloomy. Autism has brought unity into our family. It has brought passion and friendships that we'll treasure for a lifetime. Despite the daily struggles we face with safety issues, sibling issues, education struggles and insurance failing to pay for needed therapies, there is definitely a bright light that is always shining.
There are moments worth treasuring in our everyday lives. When you start feeling down or that everything seems hopeless, pull out your scrapbook and take a walk through the past. It can do wonders.
2. Seek advice and input from other parents who have "been there" and as you learn, share your experiences with others.
3. Do not isolate yourself.
4. Go shopping for doctors and therapists.
5. Research options for education.
6. Always keep safety in mind.
7. Planning for the future (and for emergencies).

Read the complete text of Jackie's article, Learning to Live with Autism: Lessons Learned and Advice for Newly Diagnosed Families. https://www.wrightslaw.com/info/autism.lessons.lrnd.pdf
Find more information and resources about autism on the Autism Spectrum page at Wrightslaw. https://www.wrightslaw.com/info/autism.index.htm
Jackie knows the struggles parents face. She has experience with these struggles and in 2002 co-founded of Bridges4Kids http://www.bridges4kids.org/.
Learn more about Jackie and her work for children with disabilities in this article. https://www.wrightslaw.com/info/advo.tips.attitude.jigafoteo.htm