Is your child is having academic, social, or behavioral problems?
Consider a Comprehensive Evaluation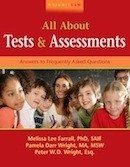 A comprehensive evaluation will identify your child's strengths, deficits, and needs.
An evaluation will help you develop:
a plan to help your child
a road map for the future
A privately obtained evaluation should answer your questions and include specific recommendations about what your child needs.
Choose an evaluator  independent evaluator in the private sector who has expertise in your child's disability, is independent of the school district, and who is willing to work with the school staff.
The evaluator may identify professionals who can help your child.
Or, your child's school may ask for consent to evaluate your child to determine if they are eligible for special education services and accommodations.
Who Can Conduct an Evaluation?
The evaluation will be conducted by an examiner who has a master's degree or doctoral degree in education or psychology.
One examiner or several specialists who have expertise in specific areas may be involved.
What Education and Training Do Evaluators Have?  
It depends.
A psycho-educational evaluation should be conducted by an examiner who has a master's or doctoral degree in education, clinical psychology, or school psychology.
A neuropsychological evaluation should be conducted by a licensed psychologist or licensed neuropsychologist who has a doctoral degree in psychology and training and expertise in neuropsychology.
Required State Credentials
Qualifications of evaluators vary between the public and private sectors and from state to state.
Evaluators should have the credentials required by the laws of your state. They should be trained according to the requirements of test publishers.
Professionals should be willing to answer questions about their education, training, and experience.
You should check references and review credentials.
Source: Wrightslaw: All About Tests and Assessments
Answers to over 200 frequently asked questions about assessments, evaluations, and tests.
Learn about common difficulties children have and what tests are used to diagnose these disorders.
Find types of tests used to evaluate problems and what skills each test measures.
Get charts of tests and skills. The charts list tests to evaluate specific problems, the skills your child needs in these areas, and shows which tests measure these skills.
Get a comprehensive master table of tests with test name, author, publisher, publisher website, age range, test type, as well as a Glossary of assessment terms.