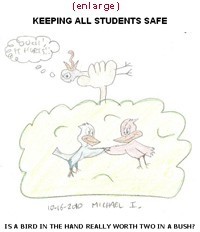 by Tricia and Calvin Luker, www.ourchildrenleftbehind.com
Earlier this year, Congressman George Miller introduced and championed the "Keeping All Students Safe Act" in the House of Representatives. Miller's bill took substantial steps to eliminate the use of restraint and seclusion in our schools. The bill passed and was sent to the Senate.
The Senate version of the "Keeping All Students Safe Act" (S.3895) is significantly different from the House bill, and includes a  provision that is creating substantial controversy. The controversial provision would allow schools to … include seclusion/restraint plans in Individualized Education Programs (IEPs), safety plans, educational plans, and behavior plans.
The IEP describes the child's special education program, and sets forth the services the child will receive. Special education is defined as "specially designed instruction … to meet the unique needs of a child with a disability …" 20 USC 1401(29)
We oppose a bill that includes the "IEP provision" for several reasons:
Seclusion and restraint are not specially designed instruction, educational practices, strategies or methodologies, so they should not be included in children's IEPs.
Although seclusion and restraint plans are not special education services, related services, or supplementary services, including seclusion and restraint plans in IEPs suggests that seclusion and restraint are special education within the meaning of special education law.
Seclusion and restraint are forms of punishment, not discipline or behavior intervention plans.
S.3895 states "seclusion and physical restraint are not therapeutic. (Finding 4)
S.3895 states "[seclusion and physical restraint] are not effective means to calm or teach children and may have an opposite effect while simultaneously decreasing a child's ability to learn." (Finding 4)
Congress should not permit schools to include seclusion/restraint plans in IEPs, or other educational programs, when this may lead to serious injury or death to children and/or to the school personnel who are tasked with implementing such a plan.
The IEP process includes provisions to address student behavior challenges, including functional behavior assessments [FBAs] and behavior intervention plans [BIPs]. Congress added these provisions to IDEA-97 and strengthened them in IDEA 2004.  Allowing schools to put seclusion and restraint plans in IEPs imperils the work that Congress, educators, and parents have done to require schools to use behavior intervention plans.
The IEP provision does not include an effective mechanism for parents to challenge seclusion/restraint plans in a student's safety plan, educational plan, or behavior plan. Due process mechanisms that exist for IEPs are costly, cumbersome, and time-consuming, unavailable to most families, and cause additional stress for students, parents and families who are already under severe stress.
Including seclusion/ restraint plans in IEPs will increase, not reduce, the use of seclusion and restraint on children who attend our nation's schools. That is not the original purpose of this bill.
We are also concerned that an IEP provision will provide a legal basis to condone and promote the use of dangerous practices that – according to Congress — have no educational or therapeutic value.
We have not been impressed by the federal regulation of special education in the decades since the special education law was enacted in 1975. We do not agree that the theoretical "benefit" of federal regulation of seclusion/ restraint in schools outweighs the unbearable cost of legitimizing the use of seclusion/restraint use in children's IEPs.
This Bird in the Hand is Not Acceptable
Some organizations have indicated they will support the bill, with the IEP provision, because they hope other provisions in the bill may protect students.
Other organizations – including Wrightslaw and Our Children Left Behind – say the IEP provision is fatal to the bill. We cannot accept legislation that will permit the planned use of seclusion /restraint by including it in the IEPs of children with disabilities, and other similar plans.
In this case, a bill that was originally intended to protect children from harm would have the unintended consequence of legitimizing seclusion and restraint, causing harm to vulnerable children.
This is the Bird in the Hand and it is not acceptable. If this bill is enacted, it will be too late to "fix things" later. The damage will be done and our children will suffer for it.
You can read the full text of "Is a Bird in the Hand Really Worth Two in a Bush?" at http://www.ourchildrenleftbehind.com/
Draft Bill: http://www.ourchildrenleftbehind.com/pdf/S.3895.pdf