Guest post by Jeremy Hilton –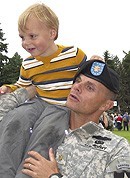 In 2008, Congress mandated creation of the DoD Military Family Readiness Council to review and make recommendations to the Secretary of Defense regarding the policy and plans of the department's military family readiness programs.
Four weeks ago, we volunteered our efforts to help DoD get the word out to the many military families who would benefit from information about the council and its mission.  In keeping with the obvious need to go where the people are, we have created a Facebook page instead of a website:
https://www.facebook.com/DoDMFRC.
Our intent is to focus on areas that concern the council and military families. 
1.  Noted at the last council meeting, not enough is known about the issues surrounding EFMP or those families' concerns. This Master List of Reports, Articles, and Regulations will help.
2.  Read the full text of legislation attached to the 2013 NDAA, otherwise known as TRICARE for Kids.
We hope keeping military families informed empowers them.
2011 NDAA report, the Senate Armed Services Committee noted,
"The committee also believes that public transparency of Council actions should be increased, and encourages the Council to establish a website. This website should serve to keep military families informed about upcoming Council meetings and to post the outcomes of prior meetings, and to increase transparency of Council activities and reports."
The Military Family Readiness Council consists of DoD policy makers, military spouses and a number of NGO's who represent military families (The American Red Cross, Blue Star Families, and the National Military Family Association).
It is imperative that military families know who on the Military Family Readiness Council represents them, how to reach them, and how to make a difference in the programs that they have come to rely upon.  With the effects of sequestration starting to sink in, we think it is more important now than ever.
The next council meeting is scheduled for the 1st of May at 1430 at the Pentagon.  More information will be posted as soon as it is listed in the Federal Registry.
We'd ask you to "like" our page and please pass along this critical information to your network so that we can continue to ensure that all families, from the deck plate up, are involved.  Whether it's Facebook, Twitter, your blog, or simply emailing your contacts, this is important.
Thank you very much for your time.  Our military families so appreciate the work you do on their behalf.
More Resources

Military Child with Special Needs – YouTube Wrightslaw Channel
Military and Department of Defense Special Education
https://www.wrightslaw.com/info/dod.index.htm
Health and Special Education Services for Military Children with Autism
https://www.wrightslaw.com/info/autism.mil.benefits.htm
Master List of Reports, Articles, and Regulations
http://issuu.com/dodmfr/docs/efmp_master_list_of_reports__articles__and_regulat
TRICARE for Kids Provision in HR 4310