Updated March 2015! How Safe Is The Schoolhouse? An Analysis of State Seclusion and Restraint Laws and Policies by Jessica Butler. The report examines state restraint and seclusion statutes, regulations, rules, and policies/guidelines in 51 "states" (to include Washington, D.C.)
How Safe Is The Schoolhouse? An Analysis of State Seclusion and Restraint Laws and Policies by Jessica Butler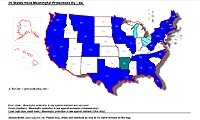 Seclusion and restraint are highly dangerous.
At least 20 students have died in restraint, according to a Congressional agency report. Others have died and been injured in seclusion.
Over 110,000 students were restrained or secluded in 2011-12.  But in many states, a child can be duct-taped to a desk or put into a concrete block seclusion isolation room she cannot escape, even when no one's safety is threatened.
Only 22 state laws provide some meaningful degree of protection against restraint and seclusion for all children; 34, for children with disabilities.
Still, many state laws that seem strong at first glance are more like Swiss cheese, riddled with loopholes.
While some states adopted new statutes and regulations in 2014 and early 2015, including AK, HI, NH, MA, and VA, bills and proposals failed in other states.
Only 16 state laws require an immediate threat of physical danger before restraint may be used on all children; 20 states, on children with disabilities. There are 14 states that protect all children from non-emergency seclusion; 20 protect children with disabilities. (5 of these ban seclusion for all children; 5, for children with disabilities.) In the majority of states, restraint and seclusion can be used when a child tears a Dr. Seuss book, has a tantrum or sensory reaction; cannot sit still or follow instructions; or for other manifestations of a disability.
34 states do not require schools to notify parents within 24 hours when restraint and seclusion are used on all students, 25 states, when used on students with disabilities. Parents must be notified very quickly so that they can watch for concussions, hidden internal injuries, trauma, and to work with schools to prevent recurrences. But the majority of those states that have parental notification laws or informal guidance favor notification on the same day or within 1 day.  This indicates strong support for such requirements.  A "Parental Notification Laws at a Glance" chart is on p.38.
Restraints impeding breathing or threatening life are banned in 22 states for all children; 29 states, children with disabilities.  These laws may be phrased as prohibiting life-threatening restraints, restraints that impair breathing, or prone restraints.
Mechanical restraints include locking chairs and devices; duct-taping or tying students to furniture, and similar devices children cannot escape.  Only 19 states ban mechanical restraint for all children; 23 for students with disabilities.  Only 19 states ban dangerous chemical restraints for all children.  Children put into mechanical restraint and left in isolation seclusion rooms are at particular grave risk.
Far too often, restraint and seclusion are used as first-line responses, instead of last resorts when necessary to prevent imminent danger to safety.  Many students are subjected to restraint and seclusion for hours, even when there is no longer an emergency. Positive behavioral interventions and evidence-based preventative methods will prevent many challenging behaviors.  How Safe is the Schoolhouse addresses state rules on these subjects.
Despite state action, America remains a country where moving down the highway or across a river into a new state can mean a student loses protections from these dangerous practices. 
A family need only cross from Philadelphia, Pennsylvania to its New Jersey suburbs, or from Memphis, Tennessee to neighboring Arkansas or Mississippi to find themselves in this situation.  In too many states, students are still subjected to restraint and seclusion for actions that threaten no one, like having a tantrum, tearing up paper, running around a room, or for other manifestations of their disabilities.
This report was recently featured in articles by National Public Radio; the Washington Post; Education Week's On Special Education, and Disability Scoop.
About the Author
Jessica Butler is the mother of a child with autism and an attorney. She has served as the Congressional Affairs Coordinator for the Autism National Committee(www.autcom.org).  AutCom has worked for over 25 years to eradicate the use of abusive interventions upon people with autism and other disabilities.  She served as Chair of the Board of Directors of the Council of Parent Attorneys and Advocates(COPAA) in 2007-08, and on the Board of Directors from 2004-2009. She was a principal coordinator of COPAA's Congressional Affairs program in 2004-2009.  She is the author of UNSAFE IN THE SCHOOLHOUSE: ABUSE OF CHILDREN WITH DISABILITIES (COPAA 2009), which describes over 180 cases in which students were subjected to restraint and seclusion.  This report, HOW SAFE IS THE SCHOOLHOUSE?, was authored entirely by Jessica Butler and represents only her views and work.  It is not a statement on behalf of AutCom or any entity, organization, or person.
You can email Jessica at jessica@jnba.net.  The current report is available free of charge on AutCom's webpage, www.autcom.org, and no one should charge you money for a copy.
More about Restraint and Seclusion in Schools