Do I have a right to know the qualifications of my child's teachers? If the answer is "yes," how long does the school have to provide me with this information?
**********
Congress has reauthorized the Elementary and Secondary Education Act (ESEA), the statute formerly known as No Child Left Behind. The new statute, Every Student Succeeds Act, was signed into law by President Obama on December 10, 2015.
**********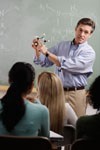 The answer is "yes" if your child attends a school that receives Title I funding, and "maybe" if the school does not receive Title I funds.
At the beginning of the school year, your school district must notify parents of all children who attend Title I schools of their right to request information about the qualifications of their child's teachers and paraprofessionals, including . . .
(1) Whether the teacher has met State qualification and licensing criteria for the grade levels and subject areas in which the teacher provides instruction;
(2) Whether the teacher is teaching under emergency or other provisional status through which State qualification or licensing criteria have been waived.
(3) The baccalaureate degree major of the teacher and any other graduate certification or degree held by the teacher, and the field of discipline of the certification or degree.
(4) Whether the child is provided services by paraprofessionals and, if so, their qualifications.
Are teachers who instruct students with Specific Learning Disabilities in general education classes "highly qualified"?
Teachers are "highly qualified" to teach academic subjects. To be "highly qualified," special ed teachers must demonstrate that they are competent to teach academic subjects. They can do this by having a degree in the subject or by passing a knowledge and skills test. The knowledge and skills tests are developed by state departments of education so the quality and content differs between states. Most tests are not rigorous.
Special ed teachers who are not highly qualified can assist highly qualified teachers, give advice about accommodations, etc.
If you want to get information about the qualifications of your child's teachers, you need to make your request in writing. When you make requests in writing, you make it more likely that you will get an answer.
Read NCLB: Parent's Rights to Know Qualifications of Child's Teachers. This article answers questions about highly qualified teachers and includes a sample letter you can use to request information about the qualifications of your child's teachers.
https://www.wrightslaw.com/info/nclb.parent.right.know.htm
If the school does not answer your request in a couple of weeks, send another letter explaining that you sent a letter on XXX Date and haven't received a response. Attach letter #1 to this letter.
If the school does not provide the information you requested, contact the No Child Left Behind Regional Representative for your state. [no longer available]
NCLB Representatives are responsible for helping states comply with the law and for monitoring compliance in their region. To find the Regional Representative for your state, click here: http://www.ed.gov/about/contacts/gen/regions.html [no longer available]