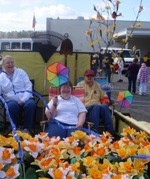 Help us support the Lewis B. Puller Center by voting in the Pepsi Refresh Project.  The Center hopes to provide computers, software & lockers for people with disabilities.
Wrightslaw has been a long-time business partner with the Puller Center. The Center offers employment to intellectually challenged adults by contracting on-site jobs for a wide range of services.
Check it out – please vote today! www.refresheverything.com/friendsofthepullercenter
The Puller center proposes to purchase 5 laptop computers and learning software to teach the individuals everyday life skills. This will help them to continue to move forward toward a more independent lifestyle.
The center also hopes to purchase lockers for their personal items. This small act of providing each individual with their own locker will give them a sense of security and responsibility.  It will also help them to understand about personal space and respect for others space. This may seem unimportant to most people but to someone with an intellectual disability it gives them a sense of pride. Giving them this small space makes them feel like responsible mature adults.
If you've ordered single copies of Wrightslaw books, more than likely your package was packed by skilled employees at the center.
https://www.wrightslaw.com/blog/?p=155
Voting ends September 30, 2010. Please vote today!