On Thursday, September 18, Pete and Pam presented a special education law and advocacy training program in Chapel Hill, NC. After checking in, we picked up an email from an old friend who advised that  Disability Rights of North Carolina (DRNC) had just filed a lawsuit in federal court against the Wake County Board of Education (Thanks, David). The complaint alleged that children with autism were . . .
. . . improperly restrained in class, including a child in handcuffs and a child returning home from school with bruises. Another child developed migraine headaches and panic attacks after witnessing the handcuffs and physical restraints used on classmates at Carroll Middle School in Raleigh.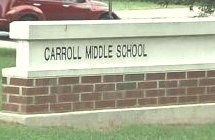 Disability Rights also learned that a vacant classroom, the "WWF room," was used for students to wrestle with one another and with teaching assistants to "release aggression." (Editor's note: We'd like to see the research that supports this practice.)
Disability Rights of North Carolina initiated the lawsuit after Wake County Public Schools refused to cooperate in their investigation of "serious allegations of abuse and neglect of students in that classroom" and "use of improper restraints in the classroom for children with autism at Carroll Middle School."
Citing "privacy concerns," Wake County refused to provide requested information and refused to allow DRNC to interview their staff and students in the classroom.
Disability Rights of North Carolina is the state and federally designated Protection and Advocacy System for people with disabilities in North Carolina. The statutory mandate of DRNC is to investigate allegations of abuse and neglect of individuals with disabilities.
This case is similar to two abuse cases decided in 2006:
Connecticut Office of Protection and Advocacy for Persons with Disabilities v. Hartford Bd of Educ, Hartford Public Schools and Robert Henry, Sup. of Schools (2nd Cir. 2006) 
Disability Rights Wisconsin, Inc. v. Wisconsin Dept of Public Instruction & Elizabeth Burmaster, Superintendent of Public Instruction (7th Cir. 2006).
How did the federal appeals courts rule in these cases?
You'll find the answers and decisions at Caselaw: Abuse, Neglect, Restraints, Seclusion in Public Schools.
More Information: Disability Rights v. Wake County Public Schools
Disability rights group sues Wake school board – Video from WRAL
http://www.wral.com/news/local/video/3557473/
Disability rights group sues Wake school board, news article from WRAL
http://www.wral.com/news/local/story/3553528/
Complaint in DRNC v. Wake County Bd. of Ed. and Robert Sturey, Director of Special Education
https://www.wrightslaw.com/law/pleadings/complaint.nc.drnc.wake.abuse.pdf