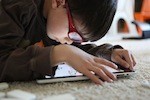 Exploring AT options or looking for good apps for your kids?  Effectively finding and utilizing the best technology is easier said than done.
Luckily, the National Center for Learning Disabilities (NCLD) has recently stepped in to alleviate the problem, releasing a number of time-saving resources to help you locate the best apps for your students.
To get started, use these articles.
Assistive Technology: 10 Tips to Help Your Child Work Around a Learning Disability
There's an app for that! But is it right for you?
Learn what to consider. Familiarize yourself with the latest available technology. Share your recommendations or reviews in comments.
Explore the Tech FInder at Understood.com
Check out the NCLD's top mobile app picks for specific learning disabilities:
Apps to Help Students With Dyslexia and Reading Difficulties
Apps to Help Students With Dyscalculia and Math Difficulties
Apps to Help Students With Dysgraphia and Writing Difficulties
Apps for Students With LD: Organization and Study
From the International Dyslexia Association, IDA:
Dr. Elaine Cheesman's App Chat: Word Games and Logic Puzzles
More Apps
(Not an endorsement) – just a listing for you to check out.
50 Best iPad Apps for Users with Reading Disabilities
Apps for Literacy Support – Spectronics Inclusive Learning Technologies
Apps for Dyslexia and Learning Disabilities – University of Michigan Dyslexia Help
13 of the best special needs apps of 2012
A comprehensive listing of  iPad apps and iBooks from the Texas Computer Education Association TCEA.
Another listing: 10 Free iPad apps for Children with Special Needs
Top 10 ipad Apps for Special Education
Apps, digital games, and other technology products promise lots of skill building. But are those products any good? "Academic experts say teachers and parents are often left to determine educational value." Learn more about Evaluating Quality in Digital Reading Products from Education Week.
More Apps for Children with Special Needs
Recommendations or Reviews
Do you have a recommendation or a review of apps you or your kids like – or don't like?  Why? Why not?
Please share your comments.