"It is no longer acceptable – if ever it was – for a district to refuse reasonable modifications to a child who seeks to handle her own service dog … Certainly since passage of the American with Disabilities Act in 1990, such failure not only violates the dictates of conscience, it also violates the law"
On September 29 2015, the Department of Justice filed suit against the Gates-Chili Central School District for refusing to allow a third grader with disabilities to attend school with her service dog unless her parent provides a separate adult handler for the dog.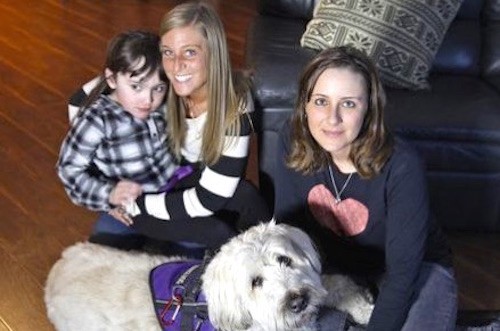 Devyn's Story
In preschool, the district allowed Devyn to bring her dog, Hannah, to school and allowed school staff to help.
But when Devyn entered Kindergarten, the district changed their policies and procedures, and would not allow Devyn to bring Hannah to school unless her parent provided a separate adult handler.
The child's 1:1 aide or other school staff were no longer allowed to help.
Jumping Through the Unlawful Hoop
Devyn's parents have paid a handler $1,400 a month (about $17,000 a year) to accompany Hannah and Devyn to school.
The handler spends about 15 minutes a day "handling" Hannah.
DOJ Orders School to Reverse Its Policy & Pay Damages
After a long, thorough investigation, the Department of Justice issued a letter of finding in April 2015.
DOJ ordered the school district to reverse its policy and pay compensatory damages to the family for injuries they suffered because the district failed to comply with the ADA.
Read:
Complaint
Letter of Findings
article about legal fees
details about the case
Feds Sue NY School District for Discrimination & Violating Service Animal Requirements of ADA  by Pamela Darr Wright, MA, MSW & Peter W.D. Wright, Esq.
https://www.wrightslaw.com/info/ada.doj.suit.svc.animals.htm
2015 FAQs about Service Animals and DOJ Guidance in Can the School Refuse to Allow a Service Dog