"You are the stars and the world is watching you. By your presence, you send a message to every village, every city, every nation. A message of hope. A message of victory.
"The right to play on any playing field? You have earned it.
The right to study in any school? You have earned it.
The right to hold a job? You have earned it.
The right to be anyone's neighbor? You have earned it." Eunice Kennedy Shriver speaks at the 1987 World Games in Sound Bend, Indiana
Today, millions of athletes in more than 180 countries participate in the Special Olympics Games, games that began in Eunice Kennedy Shriver's backyard.
Camp Shriver
In 1962, Mrs. Kennedy Shriver invited 50 young people with intellectual disabilities and 50 high school volunteers to a summer camp in her backyard.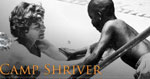 The children swam, kicked soccer balls, shot baskets, swam, and rode horses under the summer sun. The young counselors realized that these children were very much like them – they wanted to have fun. Mrs. Kennedy Shriver's "experiment" was a huge success.
Her son Tim recalls those days, "Our introduction to people with special needs was to swim or to play kickball or to go horseback riding. Part of her genius [has] always been to create things that are appealing, create opportunities that are joyful that people want to join, that make things fun."
During the 1960's, she worked with scholars and researchers to study and publicize the capabilities of people with intellectual disabilities. Firsthand experience convinced her that people with intellectual disabilities are woefully underestimated.
Her vision? That through sports, the lives of people with intellectual disabilities would be transformed and public perceptions would change. Athletes received health care, education, coaching and sports opportunities. Families of athletes found a warm and welcoming place at the Special Olympics.
First Special Olympics Games in Chicago

In July 1968, the first Special Olympics games were held in Chicago. Fewer than 100 spectators watched as as 1,000 athletes from 26 states and Canada marched in the opening ceremonies.
Mrs. Kennedy Shriver told the athletes, "In ancient Rome, the gladiators went into the arena with these words on their lips:
"Let me win,
but if I cannot win
let me be brave
in the attempt."
"Let us begin the Olympics."
During the first Special Olympics Games, Mrs. Kennedy Shriver predicted that someday, one million intellectually challenged people would compete in sports. She was mistaken.
World Games

Early on, Mrs. Kennedy Shriver knew she needed a platform to reach the public and mobilize people around the world. She wanted to get the word out faster, change public opinion faster. The International World Games were born.
In 1977, the first International Special Olympics Winter Games were held in Steamboat Springs, Colorado.
Ten years later, the University of Notre Dame hosted the seventh International Special Olympics Games with 4,700 athletes from 70 countries. ABC featured competition on its prime-time schedule.

In 2004, Mrs. Kennedy Shriver met met with Deng Pufang, son of Chinese leader Deng Xiaoping.
The 2007 World Summer Games were held in China, with support from 40,000 volunteers. The Shanghai Games were broadcast to billions of people around the world.
China now has 800,000 Special Olympics athletes, more than any other country.
The next World Summer Games will be held in Athens in 2011.
Special Olympics Sports and Empowerment Act of 2004
Mrs. Kennedy Shriver lobbied Congress to support the Special Olympics. In 2004, Congress enacted the Special Olympics Sports and Empowerment Act that authorized funding for health screenings, education, and the expansion of Special Olympics programs worldwide.
During four decades of advocacy, Mrs. Kennedy Shriver helped to build a worldwide movement of more than 3 million athletes with intellectual disabilities.
To learn more about this remarkable woman, visit the Eunice Kennedy Shriver site at
http://www.eunicekennedyshriver.org/
As I read stories on her site and other sites this morning, I realized how far we've come since she began Camp Shriver. Our job is not done.
When a reporter from NPR asked Mrs. Kennedy Shriver, then 87 years old, why she didn't relax, she replied: "Because it's so outrageous, still. In so many countries. They're not accepted in the schools. They're not accepted in play programs. They're just not accepted. So we have much to do." Read Eunice Kennedy Shriver's Olympic Legacy at http://www.npr.org/templates/story/story.php?storyId=9136962
And she's right.
I am grateful to Eunice Kennedy Shriver. When I am frustrated and weary, she inspires me to continue fighting the good fight.