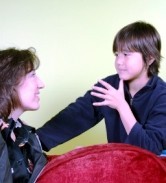 My son is deaf and low functioning. What are the laws about using an interpreter as a teacher? My son's education team feels that this is appropriate. I don't. What is the guidance on this?
Interpreters are not teachers. It is ridiculous that an IEP team would design an education plan that does not specify a teacher.
In your son's case, it needs to be a teacher who speaks the same language as your son.
This link is to a chart summarizing special education teacher requirements.
http://www.nea.org/assets/docs/HE/ideahqtchart.pdf 
This link is to the definition of highly qualified for special education teachers.
http://www.nea.org/home/19162.htm
That is the floor of what your son requires in a teacher.
Look at your son's IEP in terms of where his education and skills need to be and where they can be with appropriate instruction.
Answer these questions:
Is there an evaluation that says he cannot learn grade level material even with the best instruction?
Was the evaluator who made this determination qualified to do so?
Did the team decide on their own that they will not design a program to teach him grade level material?
If he cannot learn grade level material, is he learning as much as he can be learning under the present IEP?
Will the proposed IEP result in the skills and education he is able to learn?
Read the following material, in addition to the requirements for individual teacher qualifications. Read all of it and make a few copies for your next IEP meeting. Highlight the important parts. Note that this has been the standard for several years.
http://www.ed.gov/legislation/FedRegister/finrule/2003-4/120903a.pdf (pdf version, smaller print, but fewer pages)
http://www.ed.gov/legislation/FedRegister/finrule/2003-4/120903a.html (html version, larger print, but more pages)
Advocate for Change
Make sure that the other parents of children with disabilities in your school district have copies of this as well.
It is difficult to raise the school's standards for one child. It is actually easier to raise the standards for the whole school.
You can do that by making sure that all parents know what the standards are and require their school boards to meet current federal requirements for all the children in the district.