On January 30, the Wrightslaw Special Education Law and Advocacy Conference kicked-off the opening of the new Special Education Advocacy Clinic at the William and Mary Law School.
The Clinic, which will assist children with special needs and their families, and a new special ed law course taught by Pete and Pam Wright are part of the Law School's new Parents Engaged for Learning Equality (PELE) Initiative.
Patty Roberts, Clinical Assistant Professor of Law and Director of Clinical Programs, introduced P2 at the conference and explained that law students in the clinic, working under her supervision, will offer their services to families at no charge and also will conduct a free training class each semester to offer tools and information to parents so that they can become more knowledgeable advocates for their children.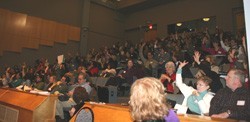 A packed house filled the Commonwealth Auditorium at the Sadler Center on the campus in Williamsburg, VA . An energized group of parents, advocates, attorneys, and law students participated in the discussion and responded to Pete's questions.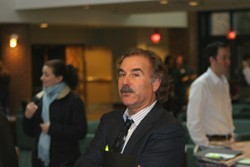 Jeffrey Breit, the 2008-2009 St. George Tucker Adjunct Professor of Law and partner at Breit, Drescher, & Imprevento, provided the impetus to create the clinic. He saw the challenges facing friends who have children with special needs and thought a clinic would be of great assistance to other families in the community and afford an important learning opportunity for students. He introduced Patty to Pete and Pam and the rest, as they say, is history. In the background, law students, Blair and Ken, assist with conference registrations.
Interim Law School Dean Lynda Butler predicted that the clinic will be "both an education and inspiration for the law students involved in it. I trust that long after they graduate these law students will look back on their work with parents and children in this clinic as among the most rewarding experiences in their legal education."
Read the William and Mary Press Release New Law School Clinic to Assist Children with Special Needs and Families at http://www.wm.edu/news/stories/2009/special-education-123.php
The clinic began accepting applications from clients on Feb. 1