My son's school district agreed to an IEE but they are trying to limit the area of assessment. There are areas that I disagree with. There are also areas that they failed to assess. Can the district limit the areas or should an IEE be a full assessment?
A good question.
The U.S. DOE Office of Special Education Programs (OSEP) was asked this question and responded with a policy guidance letter.
Question: Can a parent request an Independent Educational Evaluation (IEE) in an area that was not previously assessed by the school district's evaluation?
Answer: " …the State must ensure that in evaluating each child with a disability under 34 CFR §§300.304 through 300.306, the evaluation is sufficiently comprehensive to assess the child in all areas related to the suspected disability, and must identify all of the child's special needs, whether or not commonly linked to the disability category in which the child has been classified." 34 CFR §300.304(c)(4)and (6)
When "a parent disagrees with a school's evaluation because the school did not asses the child in a particular area, the parent has the right to request an IEE to assess the child in that area…".
Read Independent Educational Evaluations – Letter to Debbie Baus (OSEP Policy Letter, 02/23/15)
http://www2.ed.gov/policy/speced/guid/idea/memosdcltrs/acc-14-012562r-baus-iee.pdf
OSEP Dear Colleague Policy and Guidance Letters are very useful when you need to educate school staff and administrators about their legal responsibilities.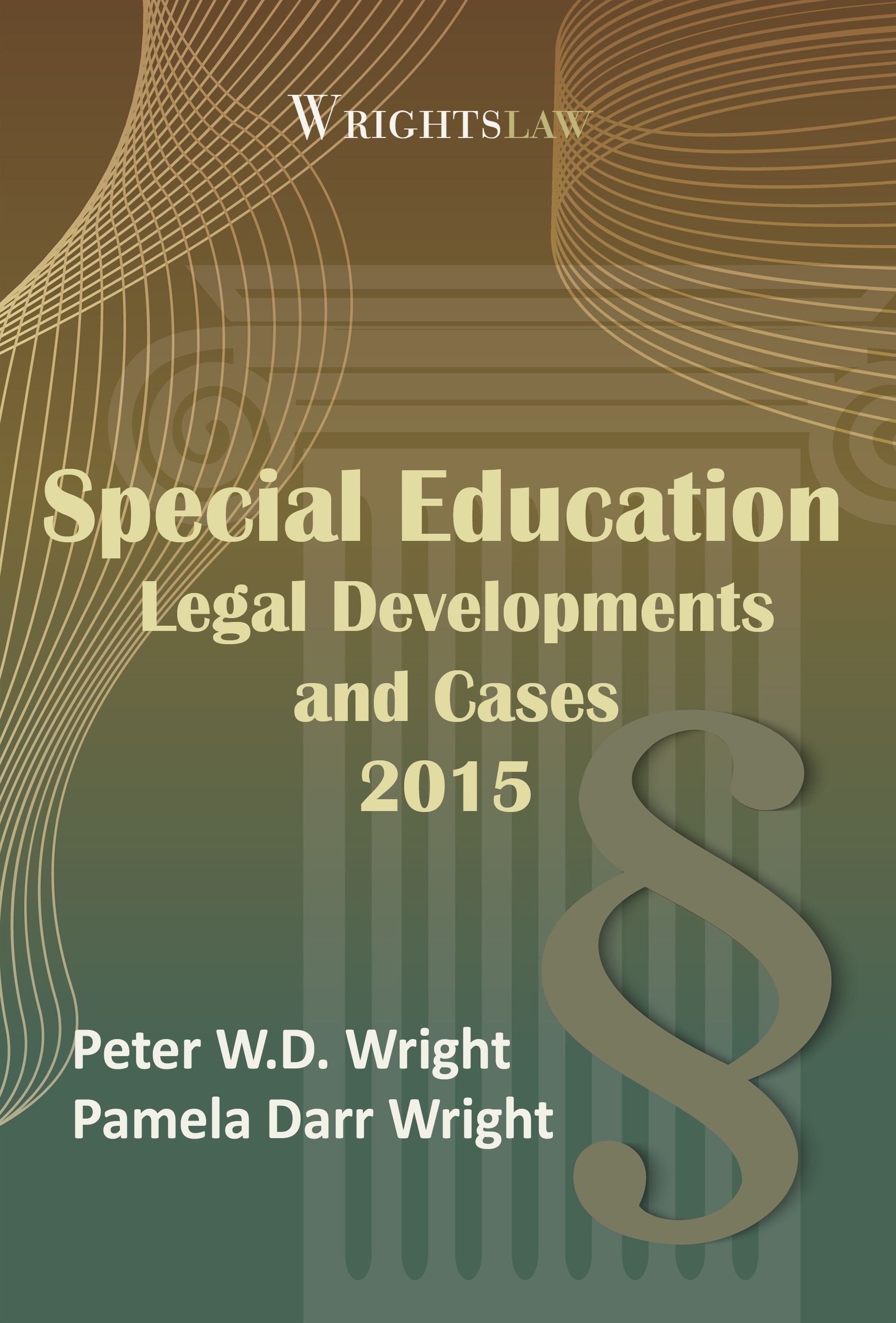 Wrightslaw: Special Education Legal Developments and Cases 2015 helps you stay up-to-date on policy guidance from OSEP.
Chapter 2 includes actions and opinions from the U.S. Department of Justice (DOJ) and U.S. Department of Education and Rehabilitation Services (OSERS) and the Office of Special Education Programs (OSEP).
Wrightslaw: Special Education Legal Developments and Cases 2015 also includes legal developments and key decisions from the Courts of Appeals in IDEA cases during 2015.
In Chapter 3, a Table of Decisions includes the date, court, synopsis of legal issues, outcome, and prevailing party in the cases. Each case in the Table of Decisions is linked to a summary of the case where the Court's words are used to describe the issues in the case and the Court's rulings. Each case also includes a link to the full text of the decision as published in Google Scholar.

Get your copy today! Order PDF from Wrightslaw – Immediate Download   $14.95
Order Print Edition from Amazon