(Archived from 11/04/08)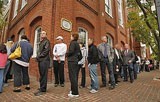 What do kids think when they see adults standing in incredibly long lines for hours, joking and chatting with strangers?
How do you explain the peculiar, unique process of choosing an American president to a child?
Here are 8 tips for talking about the election with your kids.


When we describe the sacrifices our founding fathers made to win the right to vote – and we act as good role models by exercising our right to vote – we teach our children to be responsible citizens.
These tips from Scholastic.com will help you discuss these issues and answer the inevitable questions.
Consider your child's age and sensitivity. If your child is 8 years old or younger, too much information and details can lead to confusion or unnecessary worry. For older kids …
Watch together. Children of all ages have instant access to information and images, so it's up to you to help make sense of it all.
Ask questions. Include your child's concerns, questions and opinions into informal discussions.
Seek out news sources created specially for kids . . . find age-appropriate information, articles and activities on current events topics that are of interest to children.
Make the school to home connection. Talk to your child's teacher to find out what they are discussing in class.
Support your child's desire to learn more. Check out books from the library, watch documentaries, or attend museum exhibits.
Help your child get involved. Kids can share their opinions in polls, or raise money for their favorite candidates . . .
Take a break. Monitor or limit TV viewing, Internet access, and reading materials if your child appears to be overwhelmed.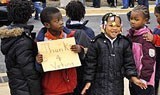 Learn how to bring the presidential campaign home to your children.
Read the details of Scholastic's 8 Tips and the Parent's Guide to the 2008 Presidential Elections.