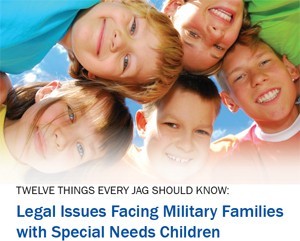 Moving once every three years, military families who have children with special needs face unique financial, medical, and legal issues, particularly during deployment or a PCS.
Parents need to understand their legal rights under IDEA (20 U.S.C. 1400), Section 504, and the Interstate Compact on Educational Opportunity for Military Children.
1. Children with a disability are legally entitled under IDEA to special education or accommodation as needed to help them progress toward educational goals.
2. Children, under age 3, with a suspected disability are also entitled to assistance (but parents should check state law before PCS-ing).
3. Parents have the right to school records. Parents have the right to review their child's school record under FERPA and IDEA.
4. Military parents changing public schools should receive "comparable services" at the child's new school. According to IDEA, a child who transfers school districts and has an IEP in effect shall be provided "with a free appropriate public education, including services comparable to those described in the previously held IEP."
5. Parents should know how discipline is applied to children with disabilities. Generally, children with disabilities are subject to the same disciplinary standards as other children.
6. Supplemental Security Income (SSI) and military pay—know the rules and how moving can change things for a military family. Junior enlisted parents of a child with a disability can receive financial aid to provide needed support for their child through SSI payments.
7. DoDEA Schools play by their own rules. Both IDEA and DoDI 1342.12 guarantee a FAPE in the least restrictive environment, but DoDI 1342.12 makes no guarantees that timelines and rules it sets for itself will be followed.
8. Parents can disagree with and challenge any decision made by the school about their child. Parents do not have to sign the IEP. Further, parents can agree to consent to some services offered by a school district and not to others.
9. Parents have some powerful tools they can use (with caution) under the law. If parents disagree with a change in services or placement for their child and choose to challenge the decision, they can send the school a written demand for "stay put."
10. The law will not reimburse parents for experts, but military parents may have an expert. TRICARE/ECHO, a supplement to TRICARE, provides up to $36,000 in funds for additional therapy and services for military children with a disability.
11. Estate planning is important—and not all military benefits will work for military parents. If the child with a disability will need assistance through programs like SSI and Medicaid into the future, parents should start planning now.
12. Parents of a child with a disability need to do additional legal preparation before deployment. Military parents of a child with a disability must carefully catalogue the doctors, service providers and others that they interface with on behalf of their child. These issues, and more, may need the help of a notary or special power of attorney.
This primer is a helpful parent guide for military families who move often and face unique financial, medical and legal issues.
Col Schuchs-Gopaul explains that military parents:
need assistance navigating these challenges
need to understand their legal rights
may require advice on estate planning, wills, POAs, etc.
need coaching on advocacy skills
We've highlighted the "12 things", but you will want to read the entire article that includes legal references and citations and strategies and tips for parents.
Read the complete article, Legal Issues Facing Military Families with Special Needs Children by Lieutenant Colonel Elizabeth L. Schuchs-Gopaul, USAF, published in the "The Reporter," Judge Advocate General's Corps, USAF; Vol. 38, No. 1, p. 20.