My name is Kelli Sanderson. I am a doctoral student studying special education at Vanderbilt University.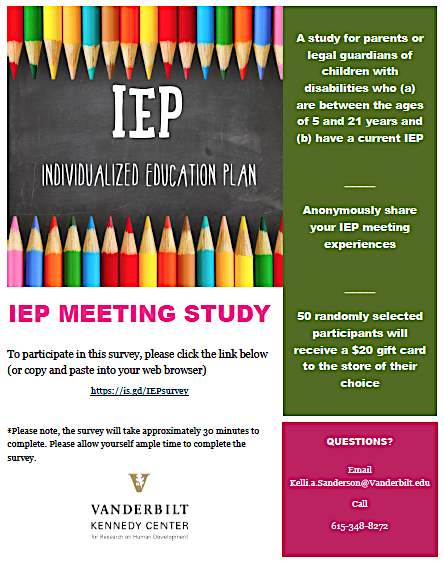 I am studying Individualized Education Plan (IEP) meetings and would like to learn more about the experiences that parents or legal guardians of students with disabilities have during these meetings.
Would you (or individuals involved with your organization) possibly be interested in participating in this study and sharing your experiences?
My study will examine factors related to participation during the IEP meeting.
If you choose to participate in the study, you will be asked to fill out a questionnaire about yourself, your child, your child's most recent IEP meeting, and your relationship with the members of your child's IEP team.
The study will take about 30 minutes to complete. Fifty (50) participants will be randomly selected to receive a $20 gift card. If you would like, we can send you the study results once the study is complete.
If you would like to participate in our study, use the following link to access the questionnaire:
Thank you for your consideration to join our study.