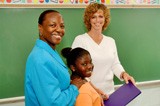 To paraphrase Jane Austen… it is a truth universally acknowledged that parental involvement supports positive student outcomes.
But does 'parental involvement' extend to parents coming into the school to observe their child in his or her school setting?
The answer is yes! 
A parent's right to observe his or her child during the school day is supported by federal law.  This applies to all students, in regular and special education alike.
The Elementary and Secondary Education Act (ESEA), currently reauthorized as the Every Student Succeeds Act (ESSA), states:
Section 8101 Definitions
(39) PARENTAL INVOLVEMENT- The term 'parental involvement' means the participation of parents in regular, two-way, and meaningful communication involving student academic learning and other school activities, including ensuring —
(A) that parents play an integral role in assisting their child's learning;
(B) that parents are encouraged to be actively involved in their child's education at school;
(C) that parents are full partners in their child's education and are included, as appropriate, in decision making and on advisory committees to assist in the education of their child;
(D) the carrying out of other activities, such as those described in Section 1116.
Section 1116 Parent and Family Engagement

(d) SHARED RESPONSIBILITIES FOR HIGH STUDENT ACHIEVEMENT
[…] each school served under this part shall jointly develop with parents for all children served under this part a school-parent compact. […] Such compact shall —

(2) address the importance of communication between teachers and parents on an ongoing basis through, at a minimum —
(A) parent-teacher conferences in elementary schools, at least annually, during which the compact shall be discussed as the compact relates to the individual child's achievement;
(B) frequent reports to parents on their children's progress; and
(C) reasonable access to staff, opportunities to volunteer and participate in their child's class, and observation of classroom activities [boldface added]; and
(D) ensuring regular two-way, meaningful communication between family members and school staff, and to the extent practicable, in a language that family members can understand.
**********
Sophie lives in upstate New York, and is the parent of a child with Tourette Syndrome.  You can find her on the web at NY-Span.org, New York – Special Education Action Network.