We requested that our son be put in an inclusion classroom at his home school. The school denied our request.

We don't have an attorney. What can we do? Should we threaten litigation?
Never tell a school, or anyone else, that you plan to sue them. There are other ways to resolve parent-school disputes. Depending on the issue, you may continue to negotiate, file a complaint with the state, or request mediation. Litigation is the last resort.
In most cases, threatening to sue makes things worse …
Why? If you threaten to sue, the school may initiate litigation against YOU.
Schools initiate due process hearings against parents to get a Hearing Officer or Administrative Law Judge to issue a ruling that their program for your child is appropriate. If this happens, you will really be in the soup.
What should you do?
Prepare
Parents who are successful in resolving school problems do not threaten to sue. They play their cards close to their chests. They try other strategies to resolve their dispute with the school. They do not initiate a due process hearing until they have exhausted other ways to resolve their problem.
If you do need to initiate litigation, you need to prepare for litigation. You are not prepared. You don't have an attorney. You haven't tried other ways to resolve your dispute with the school.
Consult with an Attorney

Most parents do not need to retain an attorney. They need a plan to resolve their dispute.
Consider a consultation with an attorney who has expertise in special education law and litigation.
To find an attorney who represents the interests of children with disabilities and their families, check the page for your state on the Yellow Pages for Kids site.
http://www.yellowpagesforkids.com/
We built the Yellow Pages for Kids site so parents and caregivers can get reliable information and support. When you visit your state Yellow Pages you will find many resources – attorneys, advocates, evaluators, tutors, programs, and support groups.
Also check the website for the Council of Parent Attorneys and Advocates for a list of attorneys and advocates in your state.
https://www.copaa.org/search/custom.asp?id=1489

Before you interview or retain an attorney or advocate, read these articles:
Guidelines for Choosing an Attorney to Represent Your Child's Interests
Guidelines for Choosing a Lay Advocate in Special Education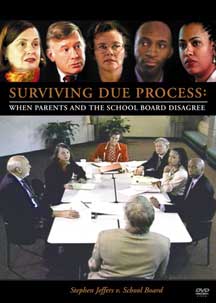 Surviving Due Process
Before you consider litigation, watch the Surviving Due Process: When Parents and School District Disagree DVD.
The story is based on an actual case and will give you a good idea of what to expect in a due process hearing.
https://www.wrightslaw.com/store/dpdvd.html
Good luck!
Pete & Pam Wright

You may also like….
The Stress of Due Process
How to Resolve Special Education Disputes: Negotiate, Mediate, Litigate
Throwing the Flag: What to Do When the School Says "No"
Prior Written Notice (PWN) is a Powerful Tool When Skillfully Used