Draft IEPs Developed in Good Faith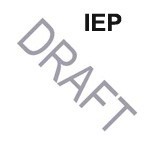 The school system I work for sends out Draft IEPs to parents by email. The word DRAFT is written across the page with a yellow highlighter to make sure parents know it is a draft. The school system sees this as a way to send information ahead of time so the parent has a copy prior to the meeting, and to determine if they want to bring an advocate to the meeting.
Sending a draft home is a good faith effort by the school to share information with the parents before the meeting. During the meeting, parents do not see information projected on the wall for the first time. Preparing a draft saves time. Several times in the meeting, the draft can be edited to reflect all team members' comments. The draft IEP does not have to be retyped if all team members agree the draft is fine.
"Is this a 'done deal'?"
I do not have the impression that the school system is saying that draft IEPs are 'set in stone.'  But, I can see how receiving the 20-40 page online draft IEP in tiny 7 font 48 hours before the meeting will make some parents feel like 'it is a done deal.'
It is intimidating to go through this long document. Parents describe signing off on it as through "I'm going to a closing on a house," or "This feels like buying a car."
Online IEPs De-personalize Team Meetings
IEP online software changes the way schools and parents interact. School employees do not have the skills to be able to talk, answer questions, run a meeting, and keyboard at the same time.  IEP team meetings feel de-personalized, with all eyes on the laptop or the wall projection, instead of looking at each other face to face.
It is tedious to type so much information on these online IEP forms. The team focuses on the form, not on the child. I've been in meetings where team members shout out… "you misspelled that word," " you typed an 'i' and not an 'o' there," etc.
Online IEPs have introduced a shift in perspective. As skills increase, it may get better. But we are in the 'guinea pig' phase now. I dislike what is happened with the team dynamics.
Recently, I sat in on a 1.5 hour IEP meeting with 9 people at the table. The team used an online IEP form. I wanted to take data on the number of eye contacts between team members vs. "all eyes on the laptop or projection screen" as an indicator of team dynamics.
What U.S. DOE says about Draft IEPs
The Commentary to the federal Special Education Regulations published by the U.S. Dept of Education discusses draft IEPs. https://www.wrightslaw.com/idea/comment/46661-46688.reg.320-328.ieps.pdf (p. 46678)
"We do not encourage public agencies to prepare a draft IEP prior to the IEP Team meeting, particularly if doing so would inhibit a full discussion of the child's needs. However, if a public agency develops a draft IEP prior to the IEP Team meeting, the agency should make it clear to the parents at the outset of the meeting that the services proposed by the agency are preliminary recommendations for review and discussion with the parents."

"The public agency also should provide the parents with a copy of its draft proposals, if the agency has developed them, prior to the IEP Team meeting so as to give the parents an opportunity to review the recommendations of the public agency prior to the IEP Team meeting, and be better able to engage in a full discussion of the proposals for the IEP." (emphasis added)