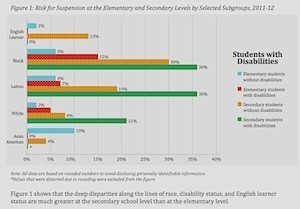 A new report published in February 2015 by the Civil Rights Project UCLA documents "gross disparities in the use of out-of-school suspension experienced by students with disabilities" and other subgroups.
These disparities mean concern about the "potentially unlawful denial of educational opportunity" and the impact on kids nationwide.
This impact includes:
loss of classroom instruction time
damage to student performance
higher risk of dropping out and delinquency
economic costs
Nationwide, nearly 1 in 5 students with disabilities were given out-of-school suspensions during the 2011-2012 school year. That's a rate about twice that of their typically-developing peers, according to data collected by the U.S. Department of Education.
In the post, Students with Disabilities Suspended More Often, Disability Scoop explains the new report found "significant variation in suspension rates based on race" and on where a student lives.
"The high level of suspensions among students with disabilities raises questions, the report suggests, about whether such children are unlawfully being taken out of class due to behavior issues related to their disabilities."
Graduation Rates
Also published in February 2015, USDOE press release announces U.S. High School Graduation Rate Hits New Record High! Well, higher, yes – but not great for kids with disabilities.
Based on data from NCES, the statistics show the highest graduation rate in  five years, "another record-setting milestone."
Although the percentage of students with disabilities graduating increased, these rates are still far lower than for other students, 62% compared to 81% overall.
The graduation rate, much like the suspension rates noted above, varied widely depending on where the student lives.
State breakdown of data.
Related Links
http://civilrightsproject.ucla.edu/resources/projects/center-for-civil-rights-remedies/school-to-prison-folder/federal-reports/are-we-closing-the-school-discipline-gap/
http://civilrightsproject.ucla.edu/resources/projects/center-for-civil-rights-remedies/school-to-prison-folder/federal-reports/are-we-closing-the-school-discipline-gap/AreWeClosingTheSchoolDisciplineGap_FINAL221.pdf
http://civilrightsproject.ucla.edu/resources/projects/center-for-civil-rights-remedies/school-to-prison-folder/federal-reports/are-we-closing-the-school-discipline-gap/losen-are-we-closing-discipline-gap-2015-summary.pdf
http://www.disabilityscoop.com/2015/02/24/students-disabilities-suspended/20088/
http://nces.ed.gov/ccd/tables/ACGR_2010-11_to_2012-13.asp
http://www.ed.gov/news/press-releases/achievement-gap-narrows-high-school-graduation-rates-minority-students-improve-faster-rest-nation