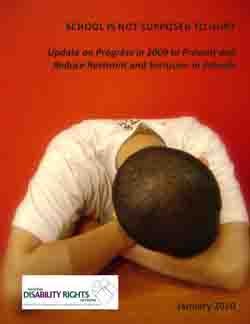 Federal minimum standards are needed so that school children are protected from abusive seclusion and restraint practices, regardless of where they live.
On February 2, 2010,The National Disability Rights Network (NDRN) released a follow-up to its January 2009 report School is not Supposed to Hurt. The report, a shocking investigation chronicling the abusive use of seclusion and restraint on schoolchildren and a lack of state and federal regulation is updated with progress made in 2009.
The NDRN update shows grassroots efforts are soaring and the federal government is beginning to take action, but states have been slow to combat abusive seclusion and restraint practices.
Yet, throughout the year, there continued to be numerous alarming cases of severe physical and emotional harm, and parents who had not come forward began to tell horror stories of harm to their own children in schools.
Curt Decker, Executive Director of NDRN, noted a phenomenal advocacy response to the initial report and throughout the year, but went on to say that "while there is a consensus that seclusion and restraint are not forms of treatment, children continue to be harmed because some states still have no laws or policies and school personnel lack necessary training."
Only two states, Minnesota and Missouri, which had no existing state law last year, took legislative action. Many states still have no restrictions on seclusion and restraint in schools, including Alabama, Alaska, Arizona, California, District of Columbia, Georgia, Idaho, Indiana, Louisiana, Mississippi, Nebraska, New Jersey, Ohio, Oklahoma, South Carolina, South Dakota, West Virginia and Wyoming.
NDRN Press Release at http://www.napas.org/sr/srjan10/RS-Report-Releasejan10.pdf
Download the Report at http://www.napas.org/sr/srjan10/Schoo-%20is-Not-Supposed-to-Hurt-(NDRN).pdf