The heart of your child's special education program is the Individualized Education Program (IEP).
Do you have questions about IEPs? You are not alone! Learn more about how to get quality services in your child's IEP .
These books will teach you how to write IEP goals and objectives that target your child's problems.
---

Preparing Instructional Objectives : A Critical Tool in the Development of Effective Instruction by Robert F. Mager
"Where can I learn to write good IEP goals and objectives?" In the best selling book on this subject, Robert Mager teaches you how to write clear measurable IEP goals and objectives.
Preparing Instructional Objectives teaches you to identify, select, and write educational objectives. You learn how to describe the performances you expect to achieve, identify the conditions under which you expect the performance to occur, and set criteria for acceptable performance.
This book includes over 50 practice exercises to sharpen your skills and an Objectives Checklist to help you distinguish good objectives from bad ones. Preparing Instructional Objectives

---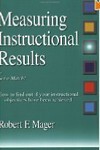 Measuring Instructional Results by Robert Mager.

How do you know if a child is learning and making progress? You measure the results of instruction to determine if objectives and benchmarks have been achieved.

This easy-to-read book gives you tools to measure instructional results. Learn more about Measuring Instructional Results.

---

Creating a Win-Win IEP for Students with Autism by Beth Fouse.
"This book helped me to know what is needed in the IEP - a good tool for parents who want services for their child but often don't know how to ask. Devour this book before the next IEP meeting!" Read reviews
---

The Complete IEP Guide: How to Advocate for Your Special Ed Child (Siegel) Useful book, filled with organization and planning tips, sample letters and forms; information about IEPs. More info

Writing Measurable IEP Goals and Objectives by Barbara D. Bateman & Cynthia M. Herr.
A guide to quick and effective writing of accurate and measurable IEP goals and objectives. This book will bring you up to speed whether you're just entering the field or have worked in it for years. Learn more

---

When Johnny Doesn't Behave: 20 Tips and Measurable BIPs
by Barbara Bateman and Annemieke Golly.
Learn how to write Functional Behavior Assessments (FBAs) and Behavioral Intervention Plans (BIPs); concrete "tips" to help you avoid behavioral problem. Learn more
---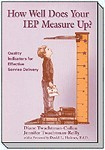 How Well Does Your IEP Measure Up? by Diane Twachtman-Cullen & Jennifer Twachtman-Reilly


Step-by-step guide to writing IEPs; includes sample goal & objective templates for areas of functioning typically neglected in IEPs including oral-motor skills, executive function, theory of mind, & critical thinking. Includes recommendations for teaching strategies, educational programming formats & useful resources.

" Finally, an IEP book that focuses on the "science" of writing clear, understandable and measurable objectives." - Pete Wright, author of Wrightslaw: Special Education Law and Wrightslaw: From Emotions to Advocacy.
---

Better IEPs: How to Develop Legally Correct and Educationally Useful Programs
by Barbara Bateman
This book gave teacher additional tools to hone their skills in writing IEPs.
---
What Do I Do When: The Answer Book on Individualized Education Programs by Susan Gorn.
Provides clear answers to hundreds of questions about IEPs. This is an excellent resource for parents, advocates, educators, and attorneys who want to learn more about this area of law.