Wrightslaw: All About IEPs
by Pete Wright

Little Rock, Arkansas
Thursday, April 1, 2010

SOLD OUT - WAIT LIST ONLY

Wrightslaw All About IEPs Conference, a Wrightslaw training program featuring Pete Wright, is being sponsored by The Parent Advisory Council, Inc., Autism Association of Northeast Arkansas, Community Connections, DHS Division of Developmental Disabilities Services, Developmental Disabilities Provider Association, Riley's Warriors.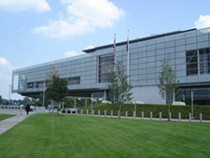 The program will be held at:
William J. Clinton Presidential Center
Great Room
1200 President Clinton Avenue
Little Rock, AR 72201
Program Description

This one-day, five hour program about IEPs will focus on:
The IEP statute, Regulations, and Commentary to the regulations
Recent IEP caselaw
Drafting of SMART IEPs
You will learn:
Legislative history and how IEPs have evolved
How to draft IEPs based on the unique needs of a child.
What is and what is not permissible in IEPs.
How to create a teamwork relationship with parents and school staff so that the child benefits.
Agenda is pending.


Registration Fee

Early Bird is SOLD OUT

March 11-29, 2010
SOLD OUT
Wait List Only

Individual

$35

$50

Individual with CLE/CEU credits

$80

$80








Your registration fee includes: Two course books, Wrightslaw: All About IEPs, Wrightslaw: From Emotions to Advocacy , two training CD-ROMS, Legal Requirements of IEPs and Understanding Your Child's Test Scores ($62.50 value).

Credits: .5 CEU (continuing education units) and 5 CLE (continuing legal credits) have been approved.

Cancellation Policy: There are no refunds. You may substitute another person for your reservation.

Additional Information: For sponsorship and vendor information, please contact Marjorie Greenberg of Eye Contact Arkansas, 501-821-4808, or email.

Questions: Contact Shayna Fendley by telephone 501-733-7199 or by email.

Wrightslaw programs fill up early - don't miss out!

Logistics, Directions, Accommodations
Directions
Click here to access directions to the William J. Clinton Presidential Center.
Parking

Parking is free at the Clinton Presidential Center. There is a public trolley that runs from the Clinton Center to nearby attractions, the River Market entertainment district, resturants and hotels.

Airports

The Little Rock National Airport (LIT)
(6.5 miles to Clinton Center)

Accommodations
For a complete list of local hotels click here.
We built the Arkansas Yellow Pages for Kids with Disabilities so you can get reliable information and support.

The Wrightslaw Yellow Pages for Kids has many useful resources - evaluators, educational consultants, academic tutors, support groups, grassroots organizations, advocates, attorneys and others who help parents get services for their children.

If you provide a service, sign up to be listed on the Yellow Pages for Kids with Disabilities - this is a free service from Wrightslaw.
To Wrightslaw Seminars & Training


Created: 12/07/09
Revised: 12/18/09