The Special Ed Advocate newsletter
It's Unique ... and Free!
2020
Training Programs

Sep 24 - Nashua, NH

Oct 1 - San Antonio, TX

Oct 11 - Denver, CO

Oct 22-23 - Torrance, CA

Oct 26 - Park City, UT

Nov 4 - Atlanta, GA

Nov 12 - Glen Burnie, MD

Full Schedule
Be a Hero ...


... to a Hero
Learn more

Wrightslaw
Home
Topics from A-Z
Free Newsletter
Seminars & Training
Yellow Pages for Kids
Press Room
FAQs
Sitemap
Books & Training
Wrightslaw Store


Advocate's Store
Student Bookstore
Exam Copies
Training Center
Bulk Discounts
Military Discounts
Student Discounts
Mail & Fax Orders
Advocacy Library
Articles
Cool Tools
Doing Your Homework
Ask the Advocate
FAQs
Newsletter Archives
Short Course Series
Success Stories
Tips

Law Library
Articles
Caselaw
Fed Court Complaints
IDEA 2004
McKinney-Vento Homeless
FERPA
Section 504

Topics
Advocacy
ADD/ADHD
Allergy/Anaphylaxis
American Indian
Assistive Technology
Autism Spectrum
Behavior & Discipline
Bullying
College/Continuing Ed
Damages
Discrimination
Due Process
Early Intervention
(Part C)
Eligibility
Episodic, such as
Allergies, Asthma,
Diabetes, Epilepsy, etc
ESSA
ESY
Evaluations
FAPE
Flyers
Future Planning
Harassment
High-Stakes Tests
Homeless Children
IDEA 2004
Identification & Child Find
IEPs
ISEA
Juvenile Justice
Law School & Clinics
Letters & Paper Trails
LRE / Inclusion
Mediation
Military / DOD
Parental Protections
PE and Adapted PE
Privacy & Records
Procedural Safeguards
Progress Monitoring
Reading
Related Services
Research Based
Instruction
Response to Intervention
(RTI)
Restraints / Seclusion
and Abuse
Retention
Retaliation
School Report Cards
Section 504
Self-Advocacy
Teachers & Principals
Transition
Twice Exceptional (2e)
VA Special Education
Advocate's Bookstore
Advocacy Resources
Directories
Disability Groups
International
State DOEs
State PTIs
Free Flyers
Free Pubs
Free Newsletters
Legal & Advocacy
Glossaries
Legal Terms
Assessment Terms
Best School Websites
Wrightslaw Multimedia Training Center
Learning is just a click away
Wrightslaw Training Center l Special Education Law & Advocacy l Understanding Your Child's Test Scores
SOLD OUT - No longer Available
Legal Requirements of IEPs (CD-ROM)
If you are like many parents, when you receive a notice about an IEP meeting for your child, you feel anxious. The best antidote to negative emotions is accurate, reliable information. As your child's parent, you are the expert on your child. That is why you are a member of your child's IEP team.
Let Pete & Pam Wright teach you about the legal requirements of IEPs.

Format
Availability
Our Price
Legal Requirements of IEPs CD-ROM (1.25 hrs)
Suggested Retail: $24.95 -

You Save $10 (40%)

Buy
$14.95

In this 1.25 hour program on CD-ROM, Pete & Pam Wright will explain these legal requirements to you in clear, no-nonsense language. You will learn about:
present levels of academic achievement and functional performance
measurable academic and functional goals
how your child's progress will be measured, and when the school will provide you with periodic progress reports
appropriate accommodations on tests and alternative assessments
transition assessments and transition plans for "life after school"
reviewing and revising IEPs
placement decisions
and much more
Required Course book

The Legal Requirements of IEPs uses Wrightslaw: Special Education Law, 2nd Edition as the required course book. As Pete explains specific concepts, he will have you make notes in your book so you can find important information quickly and easily.

If you do not have a copy of Wrightslaw: Special Education Law, 2nd Edition, you can purchase it in the Wrightslaw Store.
Format
Availability
Our Price
Legal Requirements of IEPs (1.25 hrs)
Suggested Retail: $24.95 -

You Save $10 (40%)

Buy
$14.95
Special Education Law, 2nd Edition (print)
Buy
$29.95
Combo: Special Ed Law Book (print book) + PDF Download
Buy
$44.95
"This is advocacy training at it's best..." "Each time I listen, I pick up something new!..."

Read reviews
Legal Requirements of IEPs (1.25 hours) uses these references. They are included on the CD-ROM.
U. S. Code about IEPs
Code of Federal Regulations about IEPs
Commentary about IEPs
Model IEP Form
Note: This program is not about how to draft IEP goals or other nuts and bolts issues. This program focuses on the legal requirements for IEPs.
Read Reviews of the Wrightslaw Multimedia Training Series
Wrightslaw programs are designed to meet the needs of parents, educators, health care providers, advocates and attorneys who represent children with disabilities regarding special education. The program is not disability specific.

Wrightslaw Multimedia Training Programs: To view the program, you need to have free WebEx software installed on your computer. To see if you have WebEx installed correctly, please click here.
Use Wrightslaw Training Programs for Staff & Parent Training
Thank you for taking the initiative to produce a workable, affordable training program!
Staff Training: Save time and money ... train your staff without leaving the office.
Get Wrightslaw Training CD-ROMs and get a discount when you purchase books in bulk. Train your entire office without the time, inconvenience and expense of travel. Your staff with thank you!

Parent Training and Study Groups: Use Wrightslaw Training CD-ROMs for parent training and study groups. The content of the program is divided in topical areas. You can use the program outline to tailor the training to the needs of your group. Click here for a program description.

To view Wrightslaw Multimedia Training programs, you need to have WebEx software installed on your computer.

If you don't know if you have WebEx software, check by clicking this test file. (Mac users: You can download the file to your hard drive first, or use IE or Firefox to open it. Do not use Safari.)

If the program opens, you have WebEx software. If the program doesn't open, please download and install the free WebEx software now. Be sure to choose .WRF Player. In some instances a window will pop up and WebEx asks questions for marketing purposes. You will be asked if you want to save the file. Yes, you want to save the file. After you save the file to your hard drive, you can close the window, or answer the questions. Then go back and click on the file saved on your hard drive to install the software.

If you have difficulty downloading and installing the software, check your browser and virus software because the download is probably being blocked.

After you download and install the free WebEx software, first click the test file, then click the two sample files used in the Wrightslaw Multimedia Training Series to hear Pete describe the Purpose of the law and Pam discuss preparing for school meetings.
Instructors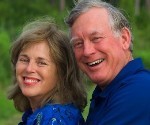 Your instructors for the Legal Requirements of IEPs training program are Pete Wright and Pam Wright.
Pete and Pam Wright were Adjunct Professors of Law at the William and Mary Law School where they taught a course about special education law and advocacy and assisted with the Law School's Special Education Law Clinic. They are co-founders and faculty at the William and Mary Law School Institute of Special Edcuation Advocacy (ISEA).

Pete Wright is an attorney who represents children with special educational needs. He successfully represented Shannon Carter before the United States Supreme Court in Florence County v. Shannon Carter (501 U.S. 7). Short bio.

Pam Wright is a psychotherapist who worked with children and families from the 1970's. Pam has written extensively about raising, educating and advocating for children with disabilities. She publishes The Special Ed Advocate, a weekly electronic newsletter. Short bio.

Pete and Pam Wright are the founders of Wrightslaw.com

Frequently Asked Questions

The FAQ page has additional information about system requirements, browsers, and downloads
To Top

Created: 04/08/08
Revised: 02/19/14