**********
Note: Congress has reauthorized the Elementary and Secondary Education Act (ESEA), the statute formerly known as No Child Left Behind. The new statute, Every Student Succeeds Act, was signed into law by President Obama on December 10, 2015.
**********
No Child Left Behind (NCLB), the federal education law formerly known as the Elementary Secondary Education Act (ESEA), is generating controversy and strong opinions.

Disability advocates, usually allied on important issues, have taken different positions on NCLB. Because Pete and Pam Wright support the accountability and highly qualified teacher provisions of NCLB, they have been roundly criticized by some parents and educators.
The National Association of Protection and Advocacy Systems (NAPAS) is a nationwide network of congressionally-mandated disability rights agencies that focus on the legal rights of individuals with disabilities.

On March 26, 2004, NAPAS published a paper about myths and realities of NCLB for children with disabilities. Four myths and realities (or facts and fictions) from that paper are listed below.
The NAPAS NCLB Quiz

Review the four statements below, then make your best guess about whether NAPAS said each statement is fact or fiction.

Questions about NCLB Myths and Realities (or Facts and Fictions)
1. It is unfair to require children with disabilities to take those (state proficiency) tests. It will endanger their already fragile self-esteem and increase the likelihood that they will drop out of school. Fact or fiction?
2. It is unfair to require school districts, which otherwise do well on state tests, to be found in need of improvement when it is only the scores of children with disabilities that are holding them back. The law needs to have exceptions written into it to prevent that from happening. Fact or fiction?
3. It is unfair to expect children with different types of disabilities to achieve on a one-size-fits-all test. Fact or fiction?
4. The U. S. Department of Education has not provided school districts with enough time to create alternate ways to test students, so there is no accurate way to measure the progress of children with disabilities. Fact or fiction?
Remember, as you read these statements, you are not reporting your personal belief or position. Instead, you must determine which statements NAPAS asserted were facts and which were fictions.

Answers to the NCLB Quiz

For the answers to the NAPAS NCLB Quiz, send an email to napasquiz @ wrightslaw.com (remove the space before and after the @ sign.)
In the subject line of your email, type NAPAS NCLB QUIZ in CAPITAL letters.
In the body of your email, list numbers 1-4 and follow each number with the word Fact or Fiction.

1. Fact / Fiction
2. Fact / Fiction
3. Fact / Fiction
4. Fact / Fiction
Within 1-2 minutes after you send your email, you will receive an autoresponse with the correct answers to the Quiz. Check your incoming email quickly.

If you do not receive an "autoresponse" reply within 1-2 minutes, check your outgoing email to make sure you sent your email to the correct address and that your subject line said NAPAS NCLB QUIZ.
Good luck!

Another Wrightslaw Quiz

What is Your Bell Curve IQ?
How Much Do You Know About Writing Effective Letters?
Special Education Legal & Assessment Terms Vocabulary Quiz
Law School Final Exam - Special Education Law & Advocacy
---
[OUT OF PRINT] Wrightslaw: No Child Left Behind
Wrightslaw: No Child Left Behind (ISBN: 1-892320-12-6) by Peter W. D. Wright, Pamela Darr Wright and Suzanne Whitney Heath includes: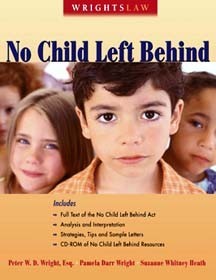 Full text of the No Child Left Behind Act
Analysis, Interpretation & Commentary
Advocacy Strategies, Tips & Sample Letters
No Child Left Behind CD-ROM of Publications & Resources
Learn what the law says about -
Scientifically Based Reading Instruction
Proficiency Testing in Reading, Math, Science
Free Tutoring, Summer School, After-School Programs
Transfers from Failing Schools and School Choice
New Qualifications for Teachers and Paraprofessionals
Bonus Pay, Stipends, Scholarships for Teachers and Principals
Teacher Liability Protection
Bonus! The Wrightslaw: No Child Left Behind CD-ROM includes the full text of the NCLB statute with overviews and commentary, NCLB regulations, dozens of guidance publications from the U. S. Department of Education and other references and resources. (contents of CD)

Internet Orders l Fax, Phone & Mail Orders l Exam Copies
Training & Conferences

Pete and Pam also do training programs about special education law and advocacy. To see if they are coming to your area soon, check the conference schedule.