IDEA 2004 allows school districts to seek attorneys' fees from parents or their attorneys if the parent's due process action or court case is "frivolous, unreasonable, or without foundation," or if the parents acted with an "improper purpose" in filing their complaint.

These terms have very specific meanings and the courts have held that defendants must meet very tough standards before they can recover fees. As a result, school districts can recover their fees only under extremely limited circumstances. This article explains these circumstances and what these restrictions may mean for parents and counsel.
The Frivolousness Prong
Under Section 1415(i)(3)(B)(i)(II) of IDEA 2004 prevailing school districts or State Education Agencies can seek their attorneys' fees from the parent's attorney only if the due process action or subsequent court case is "frivolous, unreasonable, or without foundation," or the parent's attorney continues to litigate after it clearly became frivolous. This is the standard developed by the Supreme Court in Christiansburg Garment Co. v. EEOC, 434 U.S. 412 (1978), and subsequent cases. It has applied for years to defendants in cases under the Americans with Disabilities Act, the Civil Rights Act, and Title VII.
The frivolousness standard is also similar to Federal Rule of Civil Procedure 11(b)(2) and (b)(3). Under Rule 11(b)(2), legal claims must be "warranted by existing law or by a nonfrivolous argument for the extension, modification, or reversal of existing law or the establishment of new law." Under Rule 11(b)(3), factual claims must be based on evidence or likely to be based on evidence after discovery. Cases that fail these standards are often called "frivolous." Violations of Rule 11 can be punished with sanctions. Since 1983, a form of the present Rule 11 has applied to all civil cases in federal court, including IDEA cases. In effect, IDEA 2004 simply applies a frivolousness standard to due process claims.
Fees Shift Only in Exceptional Situations
Under Christiansburg, courts shift fees to plaintiffs only in the most exceptional cases. Fees may shift if the parent's case is frivolous with absolutely no chance of success -- but not if it is merely very weak with little chance of success. See Khan v. Gallitano, 180 F.3d 829 (7th Cir. 1999); Bonner v. Mobile Energy Services Co., 246 F.3d 1303, 1305 (11th Cir. 2001). The question is whether the case "is so lacking in arguable merit as to be groundless or without foundation rather than whether the claim is ultimately successful." Sullivan v. School Bd. of Pinellas Co., 773 F.2d 1182, 1188 (11th Cir. 1985).
A case is not frivolous because a parent lost it or the defendant put on better evidence or was more convincing. Courts must be careful to avoid such post-hoc review because it would "discourage all but the most airtight claims, for seldom can a prospective plaintiff be sure of ultimate success. No matter how honest one's belief that he has been the victim of discrimination, no matter how meritorious one's claim may appear at the outset, the course of litigation is rarely predictable. Decisive facts may not emerge until discovery or trial. The law may change or clarify in the midst of litigation." Christiansburg Garment Co., 434 U.S. at 421.
In deciding whether to shift fees, the courts first assume that all of the parents' evidence is to be fully credited and given weight. Christiansburg frivolousness is generally found only if plaintiffs fail to produce evidence in support of an essential element of a prima facie case, or lack any legal authority to support the case, or because the facts that the plaintiff alleged, even if true, can never be a violation of the law. See, e.g., Bass v. E.I. Dupont, 324 F.2d 761 (4th Cir. 2003); AFSCME v. County of Nassau, 96 F.3d 644 (2d. Cir. 1996); Ryan v. City of Carlsbad, 58 F.3d 439 (9th Cir. 1995). Hence, courts should not shift fees the parents' witnesses are less believable, or the parents' evidence is flawed, or more weight is given to the school district's evidence. AFSCME, 96 F.3d 644. Some courts, however, have shifted fees when there is extremely clear evidence that the plaintiff himself is completely fabricating his claim. The terms "frivolous," "unreasonable," and "without foundation" are synonymous; they are all considered to mean frivolous under the Christiansburg line of cases.
Improper Purpose Prong & Bad Faith
Under Section 1415(i)(3)(B)(i)(III) of IDEA 2004, prevailing school districts or SEAs can seek their attorneys' fees from the parent or his/her attorney "if the parent's complaint or subsequent cause of action was presented for any improper purpose, such as to harass, to cause unnecessary delay, or to needlessly increase the cost of litigation."

As the legislative history of IDEA states, this is the bad faith standard. The language was inadvertently left out of the Conference Report, according to the Chairmen and Ranking Members of the Senate Health Education Labor and Pensions Committee and House Education and the Workforce Committee, and so they repeated it in the Congressional Record on November 19. As Senators Gregg and Kennedy agreed, "a sentence in the Statement of Managers' language of the conference report that provided the explanation for the attorney's fees language was inadvertently left out ... According to Christiansburg, attorney's fees may only be awarded to defendants in civil rights cases where the plaintiffs claims are frivolous, without foundation or brought in bad faith." [Congressional Record, November 19, 2004, pages 150 CONG. REC. S11655, H10011, H10021, is available at http://www.copaa.org/news/idea04.html]
The improper purpose prong, too, applies only to the most egregious cases. The school district must prove that the parent subjectively intended to act in bad faith. In some Circuits, the school district would also have to show that the claim is completely frivolous. See, e.g., Baker v. Health Management Systems, Inc., 264 F.3d 144 (2d Cir. 2001); First Bank of Marietta v. Hartford Underwriters Insur. Corp., 307 F.3d 501 (6th Cir. 2002). The Seventh Circuit requires either intentional bad faith or recklessly making frivolous claims. Stive v. U.S., 366 F.3d 520 (7th Cir. 2004). The bad faith standard is the standard for imposing sanctions under the court's inherent powers and the courts are very familiar with it.
Improper Purpose and Rule 11
The improper purpose prong is also similar to Rule 11(b)(1), which permits sanctions if a pleading is "presented for any improper purpose, such as to harass or to cause unnecessary delay or needless increase in the cost of litigation." Rule 11 applies a somewhat lesser standard than the subjective bad faith test. (Crucial words from Rule 11, however, are missing from IDEA 2004, which is why the bad faith standard should be applied. See Eastway Construction Corp. v. City of New York, 762 F.2d 243 (2d Cir. 1985).) Rule 11's improper purpose prong and the bad faith sanctions standard already apply to all civil cases in federal court -- including IDEA ones. IDEA 2004 simply applies an improper purpose standard to due process proceedings.
Strict Standard Applied
Under Rule 11, the school district would still have to prove that, objectively, the case was filed for an improper purpose. It is not enough for the school district or its employees to simply feel that they were harassed or to subjectively believe that the case was filed for another improper purpose. In re Kunstler, 914 F.22d 505 (4th Cir. 1990); Zaldivar v. City of Los Angeles, 780 F.2d 823 (9th Cir. 1986). Harassment must do more than annoy, bother, or vex a defendant.

Courts have held that the improper purpose standard is met by filing false affidavits and giving false testimony; by making multiple wholly groundless claims in a complaint and filing the complaint to gain leverage--not to litigate the case; by blatantly ignoring court orders; by using every possibly tactic to delay a case; and by repeatedly filing the identical claim over and over again, even though the court has rejected it (called res judicata).
In the Second, Ninth, and Tenth Circuits, courts have held that a nonfrivolous complaint cannot have an improper purpose, because society benefits from the filing of serious complaints. Sussman v. Bank of Israel, 56 F.3d 450 (2d Cir. 1995); Townsend v. Holman Consulting Corp., 929 F.2d 1358 (9th Cir. 1991) (en banc); Burkhart v. Kinsley Bank, 852 F.2d 512 (10th Cir. 1988).

In other Circuits, a nonfrivolous complaint could result in fee shifting, if the school district met its burden of proving that the complaint was filed for an improper purpose. Moreover, if there is both a proper and an improper purpose for filing a complaint, the Second, Fourth, and Ninth Circuits prohibit sanctions. Sussman, 56 F.3d at 459; Kunstler, 914 F.2d at 518; Townsend, 929 F.2d at 1365. As the Fourth Circuit explained, "If a complaint is filed to vindicate rights in court, and also for some other purpose, a court should not sanction counsel for an intention the court does not approve." Kunstler, 914 F.22d at 518.
Courts Consider Ability to Pay
Courts have discretion in determining the amount of fees to shift. They generally reduce fees based on the ability of the plaintiff to pay. Gibbs v. Clements Food Co., 949 F.2d 344 (10th Cir. 1999). Courts also often require defendants to mitigate the amount of fees by making a dispositive motion early on that could end the case, such as a motion to dismiss or for summary judgment. This is because the purpose of a Christiansburg fee-shift is to deter frivolous pleadings, not to force parties to pay more in attorneys fees than they should. FDIC v. Calhoun, 34 F.3d 1291 (5th Cir. 1994). And under 1415(i)(3)(F)(iii), fees can be reduced if they are excessive in light of the nature of the case.
General School District Attorneys' Fees Rules
The decision about whether to shift fees is made by the Court, not the due process hearing officer. This is true even if fees are being requested for the due process hearing. Fees cannot shift if the school district does not prevail. If the school district does prevail, it still has to meet the very tough standards under the law to recover its fees. The IDEA 2004 provisions apply only when "a parent who files a complaint or subsequent cause of action." So, school districts and SEAs cannot file for due process and then seek attorneys' fees for the due process action they filed.
What Can Parents Do?
As always, parents should maintain a business-like relationship with the school district and its employees. Most parents already do this. Parents should avoid inflammatory statements and letters. Pete Wright's article about The Letter to a Stranger is a good model to use for writing a letter to a school district.

In addition, parents should regularly review their children's records to ensure they are accurate. Parents should make copies so they have the facts in their own files.

It is important to trust your attorney, so you feel comfortable talking with them about everything. When hiring an attorney or advocate for due process (in those states permitting advocates to represent parents), parents should carefully make their decision.
About the Author
Jess Butler is the parent of a child with a disability and an attorney who lives in Virginia. She is also a member of the Board of Directors of the Council of Parent Attorneys and Advocates, where she is active on policy issues. This article is drawn in part from a forthcoming article by the author that will be published in the Winter 2005 issue of the Willamette Law Review.

Jess' email address is jessica@jnba.net.
What You Need to Know About IDEA 2004
Read more What You Need to Know About IDEA 2004 articles, including:

IDEA 2004: What You Need to Know About IEP Team Members & IEP Team Attendance

IDEA 2004: Specific Learning Disabilities: Discrepancy v. Response to Intervention Models

IDEA 2004: Requirements for Highly Qualified Special Ed Teachers

IDEA 2004 at Wrightslaw
IDEA 2004 at Wrightslaw will help you find answers to your questions. How the site is currently organized:

Wrightslaw: Special Education Law, 2nd Edition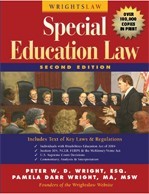 Wrightslaw: Special Education Law, 2nd Edition (ISBN: 978-1-892320-16-2) by Peter Wright and Pamela Wright is available in two formats. The book includes:
Full text of the Individuals with Disabilities Education Act of 2004 and IDEA 2004 regulations with analysis and commentary
Section 504 of the Rehabilitation Act
No Child Left Behind Act
Family Education Rights and Privacy Act (FERPA)
McKinney-Vento Homeless Act
Decisions from the U. S. Supreme Court
References and resources
Formats How to Order Discounts The E-book

Synopsis Table of Contents About the Authors Early Reviews
Wrightslaw: IDEA 2004 (out of print)

Wrightslaw: IDEA 2004 is designed to meet the needs of parents, teachers, advocates, attorneys, related services providers, school psychologists, administrators, college professors, hearing officers, and employees of district and state departments of education.
Wrightslaw: IDEA 2004 is available as a print book, an e-book - or both.
Print publication (168 pages, 8 1/2" x 11", perfect bound, $14.95 plus shipping). Ship date: 2nd week of August.

E-book (162 pages, 8 1/2" x 11", $9.95). When you purchase this digital e-book (PDF format), you can download it within minutes. You can read it on your computer or print it out on your printer. There is no shipping or sales tax on e-books. Learn more about e-books.

Internet Orders l Mail or Fax Orders l Toll-Free Phone Orders

Advocacy Challenge Discount: 40% Off on Bulk Orders