Pete Wright, Esq.
Bio l Upcoming Programs l Recent Programs l Contact Info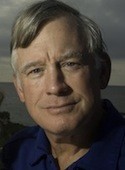 Pete Wright is an attorney who represents children with special educational needs.

In second grade, Pete was diagnosed with learning disabilities including dyslexia, dysgraphia and ADHD. He was fortunate - his learning problems were identified early. His parents obtained intensive Orton-Gillingham remediation for him by Diana Hanbury King.

Pete's determination to help children grew out of his own educational experiences.

Pete attended Washington, DC public schools from Kindergarten through the eleventh grade at which time he was maintaining a "D" average. He then attended Moses Brown School in Providence RI where, as a condition of entry, he repeated the eleventh grade. In his senior year, he was co-caption of the football team and was "All New England" in football and track.

He then attended Randolph-Macon College in Ashland, VA.

While attending R-MC, Pete worked in a Juvenile Training School as a houseparent. After graduation with a B.A. degree in Psychology in 1968, he worked in another Juvenile Training School as a counselor and later became a Juvenile Probation Officer in the Juvenile Court system. In 1972, he was honored by the Virginia Juvenile Officer's Association, (now known as VJJA) as Virginia's "Juvenile Probation Officer of the Year."

During that time, Pete also attended evening college in a graduate psychology program at Virginia Commonwealth University where he earned 30 credit hours toward a Master's Degree in Psychology. However, in 1975 Pete then shifted his focus and enrolled in law school.

In December, 1977, Pete graduated from T. C. Williams Law School at the University of Richmond with a J.D. degree.
After passing the February, 1978 Bar Exam, Pete became licensed to practice law in Virginia in April, 1978, is a member of the Virginia Bar in good standing and remains licensed to this date.

On October 6, 1993, Pete gave oral argument before the United States Supreme Court in Florence County School District Four v. Shannon Carter, 510 U.S. 7 (1993). Thirty-four days later, the Court issued a unanimous decision for Shannon Carter. (Learn more about Florence County v. Shannon Carter)

Pete is the co-author of Wrightslaw: Special Education Law, 2nd Ed. (2006), Wrightslaw: No Child Left Behind (2003), Wrightslaw: IDEA 2004, (2005), Wrightslaw: From Emotions to Advocacy, 2nd Ed. (2005), Wrightslaw: All About IEPs (2009) and Wrightslaw: All About Tests and Assessments (2014).

He appeared as the parent's attorney in in the award-winning DVD video, Surviving Due Process: When Parents and the School Board Disagree - Stephen Jeffers v. School Board (2004).

For three semesters, as Adjunct Faculty, Pete and Pam Wright taught "Special Education Law" at the William & Mary School of Law in order to assist with the creation of their Special Education Law Clinic (PELE). They now teach at the week long Institute of Special Education Advocacy (ISEA) Clinic at the Law School each summer.

Pete and Pam are the founders of Wrightslaw, the #1 ranked website about education law, special education law, and special education advocacy. (Alexa rankings)

For newspaper clippings including those where the NY Times referred to Pete as a Champion for Children, click here.


Upcoming & Recent Programs

Pam and Pete Wright provide special education law and advocacy training for parents, advocates, attorneys, educators, and others who want to ensure that children with disabilities receive quality special education programs. Upcoming programs l Recent Programs

Contact Information
Peter W. D. Wright, Esq.
Wrightslaw.com
P. O. Box 1008
Deltaville, VA 23043
Website: Wrightslaw

Back to Speaker's Bureau

Last revision date: 5/26/2015

To Top
---