We receive many emails from people who want us to provide special education legal and advocacy training in their communities.

Why Wrightslaw Programs Held During the Day

We decided to publish a "frequently asked questions" page about our seminars and training programs.

If you would like us to come to your area, this page should answer many of your questions about logistics, marketing, cost, etc.
1. When are you coming to my area?
It depends. We do seminars and training programs because an individual, group or organization contracts with us to come to their community. This group or individual assumes responsibility for logistics (i.e., location, publicity, etc.).
2. Who arranges for you to do seminars and training programs?
We have conducted our training programs for individuals, grassroots groups, and organizations in almost 40 states, including Alaska and Hawaii, in the past several years.
Organizations that arranged for us to speak or provide training at conferences include Families for Early Autism Treatment (FEAT), Pathfinders of North Dakota, Pro Parents of SC, Rett Syndrome Assn., chapters of the Learning Disabilities Association, International Dyslexia Association, and the Autism Society of America and a number of PTI's and Protection and Advocacy System's of numerous states.

Several programs were organized by resourceful individuals and very small grassroots groups.

3. How do organizers publicize your seminars and training programs?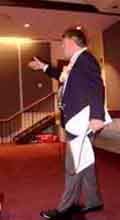 Good question! One secret to a successful event is getting the word out to people who want / need to learn about special education advocacy - over and over and over (repetition). Many of our programs either sell out ahead of time.
Another key to success is giving people something of value for registering (each registrant receives a copy of each of our two books. - see Question 6).

Successful organizers make phone calls, distribute flyers, send news releases to local newspapers. Organizers often arrange for us to be interviewed on local talk radio shows a few weeks ahead of the program - this is a good way to get the word out.

We post notices about upcoming seminars and training programs on the Wrightslaw site and in The Special Ed Advocate Newsletter. Our staff builds a separate web page for each event that includes answers to questions about the agenda, registration, directions, accommodations, what to see and do. Sample event page

Our publisher, Harbor House Law Press, helps with marketing, books sales, etc.

4. How do organizers get money to fund your training?

Individuals and organizations find creative ways to fund advocacy training programs.

Some organizers get financial assistance from companies, hospitals, medical practices, non-profits, bar associations, and law firms.

Others get support from their state parent training information center, protection & advocacy agency, school district, and / or state department of education.

In several cases, corporate groups, private law practices, and child related clinics have purchased books from our publisher and donated these books to the organizers for use at the conference. In one case, a county bar association co-sponsored our seminar and purchased the books.

5. What topics do your training programs cover?
Our programs are designed to meet the needs of parents, educators, health care providers, advocates, and attorneys who represent children with disabilities.
Our one-day advocacy seminar provides an overview of four areas: special education law, rights and responsibilities; bell curve to measure progress & regression; SMART IEPs; and tactics & strategies for effective advocacy. For details, go to our seminar page.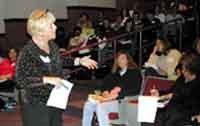 Our two-day advocacy training program (Boot Camp) is more intensive and personalized. Participants learn about special education law and how to find answers to their questions in the law; how to use the bell curve to measure educational progress; how to chart test scores; how to organize the child's file; how to write SMART IEPs; letter writing strategies; and strategies to prepare for and survive school meetings.

In Boot Camp, people have opportunities to network. We have time to give personalized answers to questions. For more information about the two-day advocacy training program, go to our seminar page and scroll down to Boot Camp. Article about Boot Camp.
After the editor of Special Education Law Update attended a program in Skokie Illinois, he wrote a three-part series of articles. If you have questions about Wrightslaw seminars and training programs, please read these articles (Note: these files are in pdf)

1. Advocates Urge Parents and Educators to Learn the Law
2. Designing SMART IEPs

3. Maintaining Good Relationships Between Parents and Schools
On occasion we do private, closed to the public, training sessions for agencies, clinics, schools and advocacy groups.
6. Do participants always receive free books?
Yes! Getting free books increases motivation to sign up for the seminar or training program (we are happy to autograph these books).

We use two of our books, Wrightslaw: Special Education Law and Wrightslaw: From Emotions to Advocacy as the primary teaching tools during our seminars. Harbor House Law Press sells books to conference organizers at 50% off.

7. Where are your advocacy training programs held?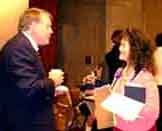 Organizers have arranged for us to do advocacy training programs in hotel ballrooms, convention centers, and auditoriums in churches, hospitals, colleges, and a high school in Skokie, IL.

One Boot Camp was held in the Hawaii State Capital.

In January 2002 and 2003, we did "From Emotions to Advocacy Cruise" in the Caribbean. Read article about "From Emotions to Advocacy Cruise"

7. How far ahead do you book events?
We are scheduling events for 2006. We are almost fully booked through 2005 and Spring, 2006. Events are not listed on the schedule page until they are confirmed. Check schedule
We try to balance our family and work lives. Pete has an active trial practice. Pam writes books, articles for the websites, and publishes The Special Ed Advocate newsletter. We have grandchildren. We live in a small village on the Chesapeake Bay where we sail, fish, and windsurf. For these reasons, we try to limit travel to one or two training programs a month.
8. If Pete and Pam are not available, do you have other speakers?
Two of our long time good friends, Maryland attorney Wayne Steedman, Esq., and Indiana advocate, Pat Howey, are also conducting Wrightslaw training sessions using our books and following our model. They have been through several of our training sessions and conducted many workshops around the country and are excellent and engaging speakers.
Pat Howey was a founding member of the Council of Parents Attorneys and Advocates. Her website is www.patriciahowey.com. She has written numerous advocacy articles.
Wayne Steedman has been active in the field of educational and legal issues affecting children with disabilities for almost 30 years. He has an active special education practice litigating at the due process, U. S. District Court and U. S. Court of Appeals level. His website is www.CallegarySteedman.com. Like Pat, he has cases and articles on the wrightslaw website. See Steedman at LRP and Gerstmyer.
For more information about Pat and Wayne, enter their last name into the search engine box at Wrightslaw.com or visit their websites.
9. I am interested - what's next?
If you are interested in having either Pete & Pam Wright or Wayne Steedman and Pat Howey present a seminar or training event, and you have read all of the files and followed the links about programs, speakers, fees, etc, then please send an email to petewright | at | harborhouselaw.com
In the subject line of your email, please put, in all CAPITAL letters, CONFERENCE YOURSTATE YOURCITY, thus, if you are interested in bringing us to a proposed conference in Deltaville, Virginia, (sailing and fishing capital of the Chesapeake Bay and home of Wrightslaw) the subject line will read:
CONFERENCE VA DELTAVILLE - then specific subject info here

Thanks for your interest!
Pete & Pam Wright