Wrightslaw Special Education and Advocacy Conference Series
with Peter Wright, Esq. and Pamela Darr Wright
Gloucester, Virginia
July 9, 12, 16 and 19, 2007

Wrightslaw Special Education and Advocacy Conference, a Wrightslaw training program with Pete Wright and Pam Wright, is sponsored by IEP Pro Parents (Involving Education Procedures through Parents Reaching Out to Parents), PEATC (Parent Educational Advocacy Training Center), ICCC (InterCounty Childcare Connection), Virginia Federation of Families and the ARC of Virginia.

The program is limited to the first 50 who register and will be held at: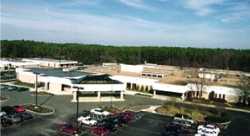 Riverside Walter Reed Hospital
7519 Hospital Road
Gloucester, VA 23061
Directions and Map
Note: Meeting room to right of cafeteria.
Program Description
This series of four sesssions about special education law and advocacy will focus on four areas:
special education law, rights and responsibilities
tests and measurements to measure progress & regression
SMART IEPs
introduction to tactics & strategies for effective advocacy
Sessions will be held on four dates: Monday, July 9; Thursday, July 12; Monday, July 16; and Thursday, July 19, 2007.

Doors will open at 6 pm for networking opportunities. Training sessions will go from 7 pm to 8:30 pm on these dates.

Wrightslaw programs are designed to meet the needs of parents, educators, health care providers, advocates and attorneys who represent children with disabilities regarding special education. The program is not disability specific.
Registration
Please made your checks payable to IEP Pro Parents, c/o Wendy Roundy and mail to Wendy Roundy, P.O. Box 1416, Gloucester, VA 23061. You will be notified by email when your registration has been received. If registration is full upon receipt of your registration, you will be put on a waiting list and notified by email.
Questions? Contact Wendy Roundy at (757) 508-6389 or email DukFrog@aol.com.
Additional Info: Bring a highlighter.
Wrightslaw programs often fill up early - don't miss out! Register today!
Logistics and Directions
Directions
Riverside Walter Reed Hospital, 7519 Hospital Road, Gloucester, VA 23061
Click here for directions from MapQuest. Click here for directions from the website of the conference site.
Parking
Free parking available at the conference site.
We built the Virginia Yellow Pages for Kids with Disabilities so people can get reliable information and support.

The State Yellow Pages has many useful resources - evaluators, educational consultants, academic tutors, support groups, grassroots organizations, advocates, attorneys and others who help parents get services for their children.

If you provide a service, sign up to be listed on the Yellow Pages for Kids with Disabilities - this is a free service from Wrightslaw.
To Wrightslaw Seminars & Training