Wrightslaw Special Education Law & Advocacy Training
with Pete Wright, Esq., and Pam Wright, M.A., M.S.W.
Cleveland, Ohio , October 17, 2006

Special Education Law & Advocacy Training, a Wrightslaw training program with Pete Wright and Pam Wright, is being brought to you by The Up Side of Downs of Greater Cleveland.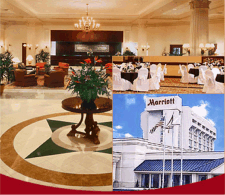 The program will be held at:
Marriott Airport Hotel
4277 West 150th Street
Cleveland, Ohio 44135
Program Description
This full day special education law and advocacy program will focus on four areas:
Special education law, rights and responsibilities
Tests and measurements to measure progress & regression
SMART IEPs
Introduction to tactics & strategies for effective advocacy
Wrightslaw programs are designed to meet the needs of parents, educators, health care providers, advocates and attorneys who represent children with disabilities regarding special education. The program is not disability specific.
Agenda
8:00-9:00

Registration

9:00-10:30

Introductions & Review Agenda.
Overview: Individuals with Disabilities Education Act (IDEA 2004); Findings and Purposes; Definitions; "Catchall Statute" - Least Restrictive Environment (LRE), 10-day Notice, State Assessments, Accommodations

10:30-10:45

Break

10:45-12:00

IDEA 2004 (cont'd): Evaluations; Individualized Educational Programs (IEPs); Procedural Safeguards; Tests & Measurements & the Bell Curve

12:00-1:00

Lunch

1:00-2:30

Review; Section 504; No Child Left Behind Act; Tests & Measurements & the Bell Curve (review); SMART IEPs; Advocacy Strategies - Rule of Adverse Assumptions & Crisis Management

2:30-2:45

Break

2:45-4:00

Advocacy Strategies (cont'd): Conflict; Obstacles to Effective Advocacy; Negotiating; Organizing the File; Comprehensive Psychoeducational Evaluation; Letters & Paper Trails; School Meetings: Preparation & Survival Strategies

4:00-4:30

Questions and Answers
Registration
Your registration includes continental breakfast, refreshments & snacks at breaks, lunch, certificate of attendance, free parking, and two books: Wrightslaw IDEA 2004 and Wrightslaw: From Emotions to Advocacy, Second Edition ($35.00 combined retail value).
Registration Fees

Regular Registration

after August 1st

Parent
$105
Couple*
$145
Professional
$135
*One set of books and two lunches for those registering as a couple.
Download the informational flyer and printable registration form here.
Mail your completed registration form, along with payment to:

Gina Mitchner
505 Wilmington Dr.
Broadview Hts., OH 44147
Make check or money order payable to: Up Side of Downs of Greater Cleveland
Credit card payment accepted online through Paypal only.
Questions? Please call (440) 478-8708 or email usodprograms@sbcglobal.net if you have any questions.
Additional Information: .6 CEU's and 6 CLE's have been approved for this conference. No refunds will be issued after October 1, 2006.
Wrightslaw programs often fill up early - don't miss out! Register today!
Logistics, Directions, Accommodations
Directions
Directions to Cleveland Airport Marriott can be found at http://www.marriott.com or call 1-216-252-5333 or 1-800-228-9290.
Please click here for directions from MapQuest.
Parking
Parking is included in your registration fee.
Airports
Cleveland Hopkins International Airport (CLE)
P. O. Box 81009
Cleveland, Ohio 44181-0009
(216) 265-6000

Cleveland Burke Lakefront Airport (BKL)
1501 North Marginal Drive
Cleveland, Ohio 44114
(216) 781-6411
Accommodations
The following hotels are near the conference location.
Restaurants
The following restaurants are near the conference location.
Carrabba's Italian Grill
5030 Tiedeman Rd.
Brooklyn, OH
6.3 miles
Shula's Steak 2
6200 Quarry Ln.
Independence, OH
about 15 minutes east
Longhorn Steakhouse
20999 Ctr Rdg Rd,
North Olmsted, OH
about 5 to 7 minutes west
Bennigan's
4824 Great Northern Blvd.
North Olmsted, OH
about 5 to 7 minutes west
Chili's Grill & Bar
25061 Country Club Blvd
North Olmsted, OH
about 5 to 7 minutes west
To Top

To Wrightslaw Seminars & Training

Ohioa Yellow Pages for Kids with Disabilities
We built the Ohio Yellow Pages for Kids with Disabilities so people can get reliable information and support.

The State Yellow Pages has many useful resources - evaluators, educational consultants, academic tutors, support groups, grassroots organizations, advocates, attorneys and others who help parents get services for their children.

If you provide a service, sign up to be listed on the Yellow Pages for Kids with Disabilities - this is a free service from Wrightslaw.
To Wrightslaw Seminars & Training