Yes, it does!
No Child Left Behind requires schools to meet the educational needs of children who are often "left behind" --English language learners, low income kids, minority kids, homeless kids - and yes, children with disabilities.
Most children with disabilities have weaknesses in reading. Read the "essential components of reading instruction." Does your child's reading program pass muster? Has the school given your child a diagnostic reading assessment? What did this assessment show?
Schools that receive Title I funds must publicly report their progress educating all children and subgroups groups of children to parents and the community.
---
Note: Congress has reauthorized the Elementary and Secondary Education Act (ESEA), the statute formerly known as No Child Left Behind. The new statute, Every Student Succeeds Act, was signed into law by President Obama on December 10, 2015.
Every Student Succeeds Act. 391 pdf pages, click here to download.
More NCLB Resources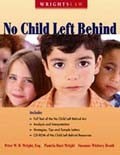 No Child Left Behind includes many new responsibilities and requirements for states, school districts, and schools. The law also includes new rights and responsibilities for children who attend public schools that receive Title I funds and their parents. Wrightslaw: No Child Left Behind will help you sort through these issues.

FAQs: Reading & NCLB - Answers to frequently asked questions about reading and NLCB:

FAQs: NCLB - Answers to questions about accountability, doing what works, school choice, safe schools, testing, and teachers.

Parent's Guide to NCLB - Learn what NCLB means to parents.
More articles and resources about NCLB

Rev: 01/18/18