Doing Your Homework:
Master of Deception: Dealing with Homework Refusal & Failure
by Sue Whitney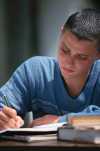 "My son is a sophomore in high school. He is a master of deception. He says he has no homework. By the time I learn that he did, he has another "0."

"He is failing and won't graduate on time. I'm afraid he'll drop out. He was tested for learning disabilities but none were found.
"Can I demand that the teachers give me a list of his homework assignments? When I request this information, the teachers won't give it to me. I'm told that 'teachers are too busy.'

"My parents did this for me to make me accountable for my work at school. I don't understand why teachers won't help now."
From Sue:
High school teachers can easily have over one hundred students. You are probably getting as much help from the teachers as any other parent.
You are dealing with several issues:
If you think your son's testing is outdated or incomplete, you can have another evaluation done, preferably by an evaluator in the private sector.

However, this will not fix his homework refusal problems. By the time a student reaches high school, he needs to find ways to do his work, regardless of whether he has a disability or not.

I suggest that you look at these issues separately.
Does Your Son Have a Disability?

It is essential that parents understand the tests that have been completed on their child - what the test results mean. Read Tests and Measurements for the Parent, Teacher, Advocate and Attorney by Pete and Pam Wright. Plan to read this article three times. Make margin notes. Use a highlighter. You will also find this information in Chapters 10 and 11 of Wrightslaw: From Emotions to Advocacy, 2nd Edition.
Now read the evaluation that was completed on your son. After reading the Tests and Measurements article, you will have a clearer sense about what the test scores mean.
If you need help understanding what the test scores mean, make an appointment with the evaluator. Bring your list of questions to this meeting. Ask the evaluator to educate you about your son, his strengths and weaknesses, and what can be done about the homework problem.
If parts of the evaluation do not seem to describe your son accurately or the evaluation was done a few years ago, you may want to get an updated evaluation by a private sector evaluator.

A comprehensive psycho-educational evaluation looks at all areas. It should contain detailed information about the findings and detailed recommendations about what needs to be done to help your son. You should expect to see the scores as standard scores and percentiles (at a minimum).
What does a good evaluation look like? Look at this evaluation to see what a comprehensive evaluation includes and how the test information is presented.
http://alpha.fdu.edu/psychology/jiffy_evaluation_center.htm
Homework Refusal and Failure

People do not consciously choose to fail. Yet, your son refuses to do his homework which causes him to fail. Neither you nor your son know why he is sabotaging himself.
Demanding that his teachers provide you with his homework will not solve this problem. Complaining that the teachers won't give you his assignments will have a negative impact on your relationships with these teachers. His teachers are likely to view you as an over-protective "helicopter parent" - you don't want that identity!

Getting Help
Find a good therapist who is knowledgeable about adolescents and family dynamics. Ask your son's doctor to recommend a therapist. (The therapist and the doctor may be able to suggest an evaluator if you decide to get a new evaluation on your son.)
If you get a referral from your primary care physician, most health insurance plans will cover several visits. If you are not sure about your benefits, call your insurance company before you make an appointment.
As your son's parent, you still control the food, money, internet, telephone, and transportation. Use this power to get straight answers from your son about homework. Although he may not be able to do the work, he is capable of telling you what the assignments are, or who he can call to get his assignments.
You need to find out why your son is failing. Does he need help or pressure? Both?
Don't you wish Dr. Spock books went through age 25?

Resources
Sample Psychoeducational Evaluation

Tests and Measurements for the Parent, Teacher, Advocate and Attorney

How to Solve Problems and Protect Parent-School Relationships - Pete and Pam Wright offer advice about how to resolve problems with the school by restructuring relationships, learning effective advocacy skills, using strategies in letters, and learning to negotiate and persuade. Learn why Pam says, "You need to view your relationship with the school as a marriage without the possibility of divorce."

Asking the Right Questions. How does the school perceive you? Good article about how to ask questions and get better services.
From Emotions to Advocacy - The Parents Journey. Strong emotions cause parents to react, often with damaging results. Don't shoot yourself in the foot. If you are having problems with the school, use your head.

To Top