Parents want their kids back in school. Most kids want to return to school too but they don't trust their schools to take precautions to keep them safe.
A new poll released by Common Sense/SurveyMonkey suggests that teens may be taking the coronavirus more seriously than many adults.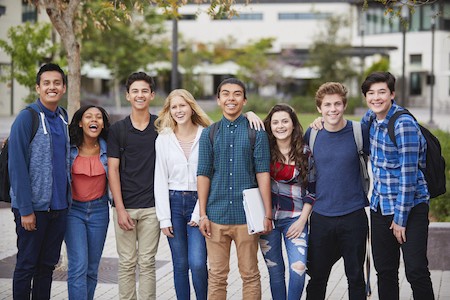 What Kids Say about Online School
"Online school is awful."
Kids say online education is creating major problems in their ability to learn. Roughly half of all students say they learn better in person.

Many kids fear the long-term negative effects of online education on their academic and social growth. More than half of students surveyed worry that they won't get the scholarship help they need. 50% are concerned that online education won't prepare them for jobs or college after high school.

Only 30% say "missing friends" is the biggest negative of online learning.

61% say they are falling behind academically and are worried how this will affect their future.

Nearly one-third say they need regular access to their teachers; the lack of teacher-student contact is creating even more academic difficulties.

27% say they don't have a device and/or they have unreliable or no internet at home. These kids say their schools aren't reaching out to help them.
Students Don't Trust Schools to Keep Them Safe
Roughly 70% of teens are worried ("very worried" or "somewhat worried") that they or someone they know will get sick if they have in-person schooling.
Only one-third trust their school "a lot" to take precautions to keep them safe.
52% trust their school 'a little" to keep them safe.
17% don't trust their school at all.
Mistrust is even higher among Black and Hispanic teens, who are more concerned that their school won't take precautions to keep them safe with in-person education.
Although most kids are seriously worried about their lack of academic progress with online learning, two-thirds of kids surveyed prefer virtual instruction because the virus is too big a threat.
Only 19% of kids think they should have in-person education this fall.

42% opt for virtual or remote instruction even though it's awful.

37% prefer a compromise - a hybrid option.

On a Personal Note:
As I read these survey results, I was so proud of our kids. They are smart and realistic. They are deeply concerned about protecting others, even if this means they must make sacrifices. Many are likely to have a hard road ahead as they try to get an education.

I was sad to learn that they don't trust their school to keep them safe. The problems they face are on us, the grown-ups, for allowing so many things to go so wrong.

Revised: 09/24/20