Wrightslaw: From Emotions to Advocacy, 2nd Edition, has been revised to reflect changes in IDEA 2004 and No Child Left Behind. The second edition includes information about various tests that are used in evaluations - intellectual or cognitive tests including the WISC-IV, educational achievement tests, speech and language tests, and more.

"Did you promise yourself you would be better prepared for your Individual Education Plan (IEP) meeting this year? If so, Wrightslaw: From Emotions to Advocacy will serve as your guide . . . You will not want to skip a single page . . . This is the book you will pull out before every meeting" - Exceptional Parent Magazine

"The Wright's have given families a clear roadmap to effective advocacy for their children. We award their work the Exceptional Parent Symbol of Excellence." Read full review
"A superb reference, From Emotions To Advocacy is very highly recommended reading for all parents of children in need of adapted or special education services .. . Filled with tips, tricks, and techniques and an immense wealth of resources, from Internet sites and advocacy organizations to worksheets, forms, and sample letters . . . " Midwest Book Review

"If I were asked to choose just one book to help me learn advocacy skills, this is it!" - Suppport for Families of Children with Disabilities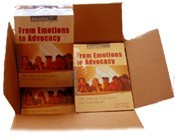 More reviews.
From Emotions to Advocacy (FETA) is more than a book! We built the From Emotions to Advocacy site at FetaWeb.com with articles, checklists, directories, and other resources to supplement the book.

Internet Orders l Mail, Phone & Fax Orders l Exam Copies l Discounts


How the Book is Organized

Section One: Getting Started.

You will learn:
• Basic advocacy skills
• Supplies you need to get started
• How to develop a master plan for your child's education
• How to act as your child's special education project manager
Section Two: Advocacy 101.

In this section, you will learn about:
• Schools as bureaucracies and the rules of the game
• Obstacles to success – school culture, myths, gatekeepers, and emotions
• Common causes of conflict
• Steps you can take to prevent or resolve problems
• Events that trigger parent-school crises
Section Three: The Parent as Expert.

In this section, you will learn:
• Why you must become an expert about your child's disability and educational needs
• How to organize your child's file, step by step
• How to use information from tests to understand your child's disability
• How to use test scores to monitor and measure your child's progress
• Intellectual or cognitive tests, comprehensive educational achievement tests,

• How to write SMART IEP goals and objectives
Section Four: Special Education Law.
In this section, you will learn about:

• The Individuals with Disabilities Education Act (IDEA) 2004
•Child find, least restrictive environment (LRE), private placements, statewide assessments, accommodations and alternate assessments
• Evaluations, reevaluations, parental consent
• IEPs, IEP teams, revising and reviewing, placement
• Safeguards: Prior written notice, procedural safeguards, due process notice, resolution session, mediation, due process hearings, discipline, and age of majority
• Section 504 of the Rehabilitation Act
• No Child Left Behind Act - reading, essential components of reading instruction, research based programs