How Can I Get the School to Provide an Appropriate Program?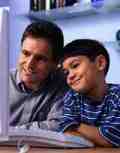 My son Paul began special education in second grade. He is now in fifth grade. When he entered special education, his reading level was 1.3. After 30 months of special education, his reading level is 2.3.
He is falling further behind, not closing the gap.

I have done a great deal of research about the components an appropriate reading program for learning disabled children. I requested that the school use a program that is structured, systematic, sequential, repetitive and phonologically based.

The school insists that Paul's strengths are "reading in context" and "employing a variety of different strategies to decode words" (i.e. picture cues, context cues) and have focused on this. Despite this, test scores show that Paul is falling further behind.
Our special education supervisor attended the last IEP meeting because I refused to sign the IEP. She said our school district recently purchased the Wilson Reading System for all resource classes in our district. Wilson is a great system – it's based on Orton-Gillingham principles of remediating dyslexic children.
I was encouraged by this - until I discovered that the resource room teacher knew little about the Wilson program. The IEP says Paul will receive 45 minutes of "pull out instruction" a day. His teacher says she will use the Wilson Reading System twice a week. On the other three days, she will put him in a reading group where she teaches "alternate reading strategies."

When I asked that Paul receive Wilson Reading System instruction five days a week, the principal said they were "trying to meet me half way." She said I was "not entitled to dictate the method they chose to use to remediate my son."
I requested additional time to review the IEP and did not sign it. We agreed to meet again in two weeks. Should I sign the IEP and be grateful for two days of Wilson? I am tired of fighting with them. I feel like giving up but my son is too important.
* * * * * * * *
You're right – your son is too important. You can't give up.
From your description, it does sound like your son has dyslexia. After 2.5 years of special education, he made 1.0 year of progress in reading. The fact that he made so little progress is evidence that the reading method being used with him is not working.
Unfortunately, school culture often prevents school staff from realizing that sometimes, parents really do know what their children need.

Your Game Plan

Private Sector Evaluation

To get your son the help he needs, you need to have an independent expert evaluate your child. The evaluator should attend the IEP meeting to explain that your child needs a reading program that is "structured, systematic, sequential, repetitive and phonologically based," and needs to be taught be a teacher who is trained in this method. Most IEP teams give outside experts credit for knowing what children need.

Your independent expert should be a child psychologist or educational diagnostician who specializes in reading disorders. To find an expert who understands the educational needs of children with dyslexia and other language learning disabilities, go to our Reading Library and scroll down to the Database of Service Providers.

Strategy: Use IDEA

IDEA-97 places schools under increased pressure to use educational programs that work, i.e., that have a track record of success. "What works" for dyslexic children are research-based reading programs based on Orton-Gillingham principles. Learn more about research-based instruction.
Strategy: Use No Child Left Behind
You can also use No Child Left Behind:

"A primary focus of this law is the requirement that school districts and individual schools use effective research-based reading remediation programs so all children are reading at grade level by the end of third grade. The law authorizes funds 'to provide assistance to State educational agencies and local educational agencies in establishing reading programs for students in kindergarten through grade 3 that are based on scientifically based reading research, to ensure that every student can read at grade level or above no later than the end of grade 3.' (20 U.S.C.§ 6361)" (page 73, Wrightslaw: No Child Left Behind)

Print several copies of 4 Great Definitions about Reading in No Child Left Behind and give them to members of your child's IEP team.

Strategy: Dealing with Resistance

"If the only tool you have is a hammer, everything looks like a nail.

Unfortunately, your experience with the resistant teacher is not unusual. If your son's teacher was trained in whole language, she may not know how to do anything else. It's better that you know this.

You need to write a polite letter that documents the resistance you encountered from the teacher and your attempts to resolve these problems. When you put your concerns in writing, this often causes school administrators to realize that they have a serious problem and must take steps to deal with it. Wrightslaw: From Emotions to Advocacy has lots of sample letters that you can adopt to your circumstances.
Recommended Reading

Visit the Advocacy Bookstore on our web site. We asked attorneys, educators, and advocates to recommend their favorite books for the Bookstore. Here are some recommendations about reading, dyslexia and learning disabilities:
You will find other good books about education in the Effective Education section of our bookstore.
* * * * * * * * * * * * * * *
UPDATE
Thanks for your advice. I contacted organizations that could recommend evaluators who understand the needs of dyslexic children. Paul was screened at a school in Seattle that uses the Slingerland Method of Instruction. Slingerland is one of the organizations I called about recommendations for an independent evaluation.

I also called every resource teacher in our district to find out what methods they use to teach dyslexic children. Most of them use different programs. It is up to the teacher to decide what method to use or whether to use any curriculum at all.
I had some success. One school uses Slingerland for their resource students. Another school uses the Wilson Reading System. I will try to move my son to another school if I cannot resolve the IEP issue.
I have done a great deal of reading from your web site. I am trying to maintain a good paper trail. I made a chart of my son's progress based on the test results on the Woodcock-Johnson Psycho-Educational Battery-Revised for the past three years. I have kept copies of all paper work sent to the school by me and received from the school.
I hope we will be able to resolve these issues, but I want to be prepared if we cannot.