The William & Mary Law Institute of Special Education Advocacy (ISEA)
Williamsburg, VA

August 3 - August 8, 2014

Registration Closed
The William & Mary Law Institute of Special Education Advocacy is presenting a five-day training program hosted by the William & Mary School of Law and co-sponsored by the PELE Special Education Advocacy Clinic, Wrightslaw, and The Oklahoma Disability Law Center.

The purpose of this program is to provide training in special education advocacy for experienced advocates, law students, new attorneys, and attorneys who are new to special education law.
The program will include 25 sessions on applicable laws, ethics, best practices in advocacy, strategies in working with parents and schools, and dispute resolution procedures, taught by national leaders in the field.
The Institute begins on Sunday evening, August 3, 2014, with the Orientation and Registration session and Welcome Reception.

The program will be held at: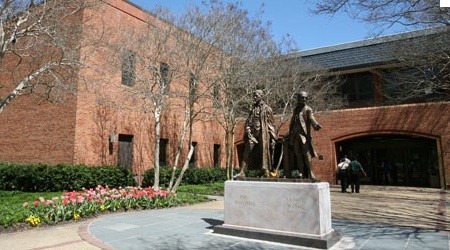 The William & Mary School of Law
613 South Henry Street
Williamsburg, VA 23185-4110
Topics include:
History and Applicable Laws
Ethics in Special Education Advocacy (CLE credit)
Introduction to Legal Research
Case Review and Analysis
Understanding Evaluations, Tests and Measurements
Individualized Education Programs (IEPs)
Section 504
Eligibility
Behavioral Issues at School
Discipline
Juvenile Justice
Negotiating with Schools - Getting to YES!
School Perspectives
Strategies for Working with Schools
Strategies for Working with Parents
Dispute Resolution and State Complaints
Experts as Fellow Advocates
Preparing a Case for Trial/Due Process
Using Evaluations, Tests and Measurements as Evidence
Evidence Strategies
Legal Claims and Remedies
Creating Systemic Change in Your State
The complete agenda will be available soon.

Registration
The registration fee includes the opening reception, all lunches and scheduled breaks, over $200.00 of materials, including books* and multimedia training.
In general, educational and training expenses are tax deductible. Check with your accountant about deductible educational expenses that may include books, continuing education fees, and travel costs.
Registration Fees -

Advocates, Educator/Advocates, Non-attorneys

$795

Attorneys (CLE credits pending)

$995

2 or more Individuals from same office

10% discount

Law Students (non-credit)

$795
Attendance is limited to 75. Applications will be considered on a rolling basis bi-monthly until the class is full. Early applications are recommended.
Scholarships: Some state Planning Councils or Developmental Disabilities Councils offer scholarships or funds for participation in conferences and short-term educational programs for advocates in the field of developmental disabilities. You may want to investigate funding available in your state. Go to the National Association of Councils on Developmental Disabilities. Click on the map for your state Council website to begin your search. (Example:Indiana Consumer Investment Fund.)
Registration for Law Students
Law students can earn two graded credits for this course. Each law student enrolled for credit will be required to complete the pre-assigned work for ISEA, attend all ISEA sessions, and submit a paper no later than August 22nd of no less than ten double-spaced pages to Professor Patty Roberts on a topic mutually agreed upon prior to August 8th.
Student tuition and fee information is found on this page:
http://www.wm.edu/offices/financialoperations/sa/tuition/index.php. William & Mary students may register on-line prior to May 15th, 2013. Law students not currently enrolled at W&M must contact Patty Roberts to apply for admission to this course.
*All registrants will receive new copies of Wrightslaw: Special Education Law, 2nd Edition, Wrightslaw: From Emotions to Advocacy, 2nd Edition, and Wrightslaw: All About IEPs. If you already have copies with notes and wish to use your books for classwork, please do not hesitate to bring them with you.
Application Process

Attendance is limited to 75. Attendees will be selected via an application process. The application form includes all registration details, costs, applicant questionnaire, and required pre-conference assignments. Download the application.
Applications will be considered on a rolling basis bi-monthly until the class is full. Early applications are recommended.
If accepted, participants agree to complete all pre-conference assigned reading and course work, attend and participate in all sessions, and complete all homework and class assignments.
Submit your application to the Parents Engaged for Learning Equality (PELE) Clinic at William & Mary Law School with a deposit check in the amount of $250. Checks should be made out to the Marshall-Wythe School of Law Foundation or MWSLF. Please write 'Registration for ISEA' in the memo field.
If you are accepted, payment of the remaining registration fee must be received within ten days of notification of your acceptance in ISEA. If you are not enrolled in the course, your deposit check will be returned immediately.
Download the application.
Credits: Continuing Legal Education (CLE) 27.5 credits are anticipated, including 1 ethics (1.5 hours). Continuing Education Units (CEU) 2.8 (28 contact hours) are anticipated for this conference.
Questions? Contact the PELE Clinic at (757) 221-5735 or pele@wm.edu


Logistics, Directions, Accommodations

Directions

Directions to William & Mary. Campus map.
Visiting Williamsburg area. Williamsburg area map.

Airports

The airports closest to William & Mary Law School are Newport News - Williamsburg - PHF (approximately 20 miles), Norfolk International - ORF (approximately 45 miles) and Richmond International - RIC (approximately 45 miles).
Airport Transportation
Tidewater Coach shuttle to the Colonial Williamsburg area from Newport News, Norfolk, or Richmond airports offers a special ISEA rate to be posted soon.

Accommodations

The Embassy Suites Williamsburg is offering a special room rate of $119.00 per night. A block of rooms has been reserved for August 3, 2013 - August 8, 2013. The special room rate will be available until July 10, 2014 or until the group block is sold-out, whichever comes first. The special group rate code is ISE.

If you try to book a room online and are advised "No rooms available," then you may want to call the hotel direct at 1-757-229-6800 and ask for Heidi. You must explain that you are with the Wm & Mary Law School's ISEA training. An alternate # is Hilton's toll free reservation at 1-800-284-3930. The hotel offers guests both a complimentary cooked-to-order breakfast and a complimentary cocktail reception daily.

We recommend that you make your reservations as soon as possible. Embassy Suites will offer this discounted rate 3 days before or after the ISEA conference, should you wish to extend your stay in Williamsburg.
Complimentary shuttles will bring you to and from W&M Law School and Embassy Suites for all conference events.