Virginia CEC Annual Conference
Balancing Trends and Issues: 21st Century Special Education

Pete Wright, Esq. to Present Keynote and a Selected Session

Virginia Beach, VA
Saturday, October 17, 2009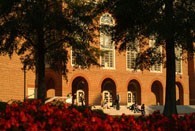 The program will be held at:
Regent University
Law Building Moot Courtroom
1000 Regent University Drive
Virginia Beach, VA 23464


Registration


Registration Fee

On or before August 1, 2009

After
August 1, 2009

Individual

$100

$125
Registration fee includes, Keynote, break-out session, morning refreshments, lunch and two books, Wrightslaw: Special Education Law, 2nd Edition and Wrightslaw: From Emotions to Advocacy, 2nd Edition.

Online registration is the only option available. Click here to register.

Download and distribute the information flyer.

Credits: Students can receive 1 graduate credit from Regent University for an additional fee of $190. In addition to the fee, each student is responsible for writing a reflective paper about the conference.

For additional conference information, please visit the Virginia Council for Exceptional Children website.

Questions? Contact Hope Jordan by email or call 757-352-4438.


Wrightslaw programs often fill up early - don't miss out!
Logistics, Directions, Accommodations
Directions
Click here for directions from MapQuest.
Parking

Parking is free. Click here for a campus map.

Airports

Norfolk International Airport

Newport News/Williamsburg International Airport


Hotels

Founders Inn
5641 Indian River Rd.
Virginia Beach, VA 23464
757-424-5511

Located on the Regent Campus - Room rate pending
For a list of local hotels near the Regent University campus click here.
We built the Virginia Yellow Pages for Kids with Disabilities so people can get reliable information and support.

The State Yellow Pages has many useful resources - evaluators, educational consultants, academic tutors, support groups, grassroots organizations, advocates, attorneys and others who help parents get services for their children.

If you provide a service, sign up to be listed on the Yellow Pages for Kids with Disabilities - this is a free service from Wrightslaw.
To Wrightslaw Seminars & Training